Christmas markets have a long history in many of Europe's leading cities and are popular attractions for locals and tourists alike during the holiday season. Traditionally held during the four weeks of Advent, these markets often celebrate the holidays with a piping hot mug of mulled wine and a hefty scoop of Christmas magic.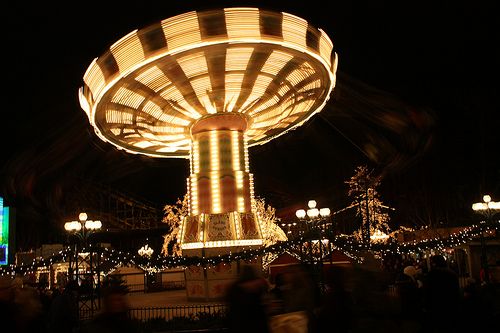 Christmas at Liseburg, photo by Mikael Miettinen, CC by 2.0
Austria
Salzburger Christkindlmarkt – Salzburg
November 17 to December 26, 2011
This lovely annual Christmas market takes place in the heart of Salzburg in Residenzplatz and has been going on for nearly 500 years! Salzburg is home to more than just The Sound of Music and Mozartkugel, its charming medieval architecture, snowy hills and panoramas from the Hohensalzburg Castle. Visitors enjoy strolling the vendors, hearing live choir music and viewing a live Nativity. This is one of the few markets that is actually open on December 25, so if you are looking for something to do on Christmas Day, this is the place!
Belgium
Bruges Christmas Market – Bruges
November 25, 2011 to January 3, 2012
If you enjoy Christmas markets and ice skating, get your skates in gear for Bruges' Christmas Market. Held in the beautiful historic center of the city in the Markt, this market offers traditional little chalets selling snacks, trinkets and, of course, delicious Belgian beers! Don't forget to try the delicious specualoos, which are a Dutch-style of gingerbread.
France
Lille Christmas Market – Lille
November 19 to December 30, 2011
A quick 30 minutes from Brussels or 90 minutes from London can get you to Lille! Held in place Rihour, this market is easily located in walking distance of Lille's main train station, making this an ideal outing if you find yourself in one of northern Europe's loveliest cities.
Germany
Christkindlesmarkt – Nuremberg
November 25 to December 24, 2011
One of Germany's most famous holiday fairs, the Nuremburg Christmas Market has often been used as a model for Christmas markets around the world. The market opens with an elaborate ceremony every year on the Friday before the first Sunday of Advent, and often features local school choirs and a visit from the Nuremburg Christmas Angel. This massive fair has just about every food, drink or craft you could possibly want, including gingerbread, pastries, mulled wine and a large variety of glassworks and porcelain. Other events include church services, city tours and musical programs.
Hungary
Budapest Christmas Fair – Budapest
November 18 to December 30, 2011
Considered one of the best Christmas fairs in Europe, the Budapest Christmas Fair features some of the most talented artisans and craftsmen in the country. Have a cup of mulled wine in a souvenir "Budapest" cup as you peruse the stalls. For many, however, the main attraction is the food. The traditional Hungarian dishes include sausage, grilled meats and kürtőskalács, a cone-shaped filled pastry. Evening entertainment includes musical performances and the Nativity play.
Ireland
Docklands Christmas Market – Dublin
December 8 to December 24, 2011
The Christmas Market at the Dublin Docklands takes a more pan-European approach to the holidays. Visitors can treat themselves to traditional mulled wine, a wide selection of pastries from all over the continent and wander through the merchant stalls. The dockside location lends a magical atmosphere to the market as the sun sets and the lights' glow illuminates the water. The lovingly restored "Galloping Horses" Carousel, fairground attractions and carol singers provide hours of family entertainment.
Italy
December 1 – 21, 2011
Held in Florence's piazza di Santa Croce, this market in the heart of the city features vendors primarily from Germany, France and some Italian vendors. There are many crafts on hand (sweaters, trinkets, toys) as well as German wurst with mustard and a mug of Glühwein (mulled wine).
Netherlands
The Christmas Market in the Velvet Cave – Valkenburg aan de Geul
November 18 to December 23, 2011
A visit to the Valkenburg Christmas Market is a unique experience. One of the largest and oldest underground Christmas markets in Europe, the market is housed in a series of caves decked out to look like everyone's Christmas fantasy come true. Visit Santa's home in the Velvet Caves, ogle his room of presents and admire his bedroom. Children will delight in seeing his sleigh and reindeer. With endless stalls brimming with crafts and food, a visit to this subterranean bazaar will surely be one to remember.
Norway
Christmas Market at Spikersuppa – Oslo
November 24 to December 20, 2011
Christmas time in Oslo is enough to make even the most jaded of us believe in Santa again. The lights that cover the trees in the market and the fanciful design of the tents bring to mind childhood ideals of the perfect holiday. The Christmas Market at Spikersuppa is filled with potential presents and Norwegian delicacies, most of which involve elk. Grab a warm cup of gløgg, nibble on some pepperkake and revel in the holiday spirit.
Spain
Santa Llúcia Christmas Market – Barcelona
November 26 to December 22, 2011
This Barcelona market dates back to 1786 and has become synonymous with the traditional Catalan Christmas. Generally, the fair is divided into four sections. The Nativity Scenes and Figures area offers both displays of Nativity scenes and sells accessories for customers who would like to construct their own. The Greenery and Plants section sells both real and faux trees. The Crafts area is filled with local artisans peddling their wares. The Simbombes section supplies every type of musical instrument you could possibly want for your symphonic Christmas celebration.
Sweden
Christmas at Liseberg – Gothenburg
November 18 to December 23, 2011
The holiday season at one of the largest amusement parks in Scandinavia is a sight to behold. Lit by nearly five million lights, visitors can experience a traditional Swedish Christmas. The park's many restaurants also offer traditional local holiday dishes, including a buffet inspired by Sweden's west coast. Every Sunday, enjoy sing-alongs with some of the country's favorite vocalists and be sure to take the children to see Father Christmas!
United Kingdom
Traditional German Christmas Market – Edinburgh
November 24 to December 24, 2011
Germany comes to Scotland for the holidays at the annual Traditional German Christmas Market in Edinburgh. Put on by Frankfurt-based merchants in Princes Street Gardens, the multitude of stalls selling German hand-crafts is perfect for those searching for unique gifts. The food, of course, is not to be missed, with German delicacies like grilled sausages, fried potato cakes, pork sandwiches and glühwein, a traditional German mulled wine.