When visiting Reykjavik, you will notice the same street sign all over town: a head floating above two squiggly lines and an arrow. This is the universal symbol for "hot pot."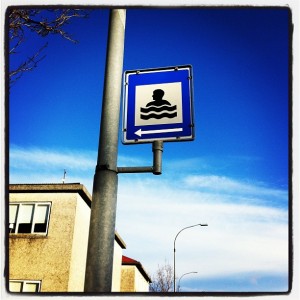 This way to the hot pot!
In Iceland, the hot pot–their term for what others may call a pool, hot tub or public bath–is an integral part of the culture. Many Icelanders regularly visit hot pots to relax, catch up with friends, gossip and debate the latest political issues. Since the water is geothermally heated and not treated with any chemicals, visiting the hot pot is also considered part of a healthy routine.
No trip to Iceland is complete without at least one hot pot stop, and if you're staying for more than a couple days it's worth it to fit in a few. But if you only have time for one, it can be difficult to figure out where to go given that there are so many in Reykjavik alone and each offers a distinct experience.
On one end of the spectrum there's the spa-like hot pots with huge pools, on-site cafes and additional services like massages and facials. On the other end are the no-frills municipal hot pots, which are closer to community pools. So which will give you the best hot pot experience?
Laugardalslaug
Representing the municipal hot pots is Laugardalslaug, the largest in Reykjavik and considered by many to be the nicest. It has all the facilities you'd expect to find: six hot pots at different temperatures ranging from 37 to 42 degrees Celsius (98.5 to 108 degrees Fahrenheit), indoor and outdoor swimming pools kept at moderately warm temperatures, a sauna and a steam bath. Additionally, there are two water slides into the large outdoor pool, which are great fun for kids (and adults). Laugardalslaug is Continue reading →