A few blocks from Union Square, tucked away on Taylor Street (between Sutter and Post) you'll find Ryoko's. This late night, hole-in-the-wall sushi joint has been turning out quality sushi, sashimi, and other Japanese fare for the past 23 years.
With its nondescript entrance, Ryoko's can be pretty easy to miss—that is, unless you go during peak hours and see the line of people out the door. The restaurant is actually located below street level, so once you step inside you descend a set of stairs to reach the dining area. The atmosphere inside is warm and inviting. Cave-like, even. It's the type of place where you think "Cool, I had no idea this place was here." Lighting is dim, ceilings are low, and the walls are painted a deep cobalt blue. The brightly-lit sushi bar takes up half the space, while small tables set close together take up the rest. There's a baby grand piano squeezed in amidst everything too, though I have yet to see anyone play it.  Overall it's cozy and lively.
Everyone that arrives is greeted by the staff with a boisterous "IRRASSHIMASE!" which means "welcome" in Japanese. It's in all caps because they literally shout it at you. With Ryoko's being the popular place that it is, people are always walking in so you hear a constant sing-song of "IRRASHIMASE!" throughout the night. It's not too noticeable though, given the high decibel degree. If anything, it just adds to the friendly and jovial vibe of the place.
On to the food.  The food here is simple, not flashy.  It's best to order from the daily specials board above the bar. That's where you'll find the freshest stuff. If they have it, I recommend the Hamachi Toro (toro being the fattiest part of the fish). It's flown in from Japan so it's not too cheap—usually $9 for two pieces—but my god, the flavor and buttery texture…perfection!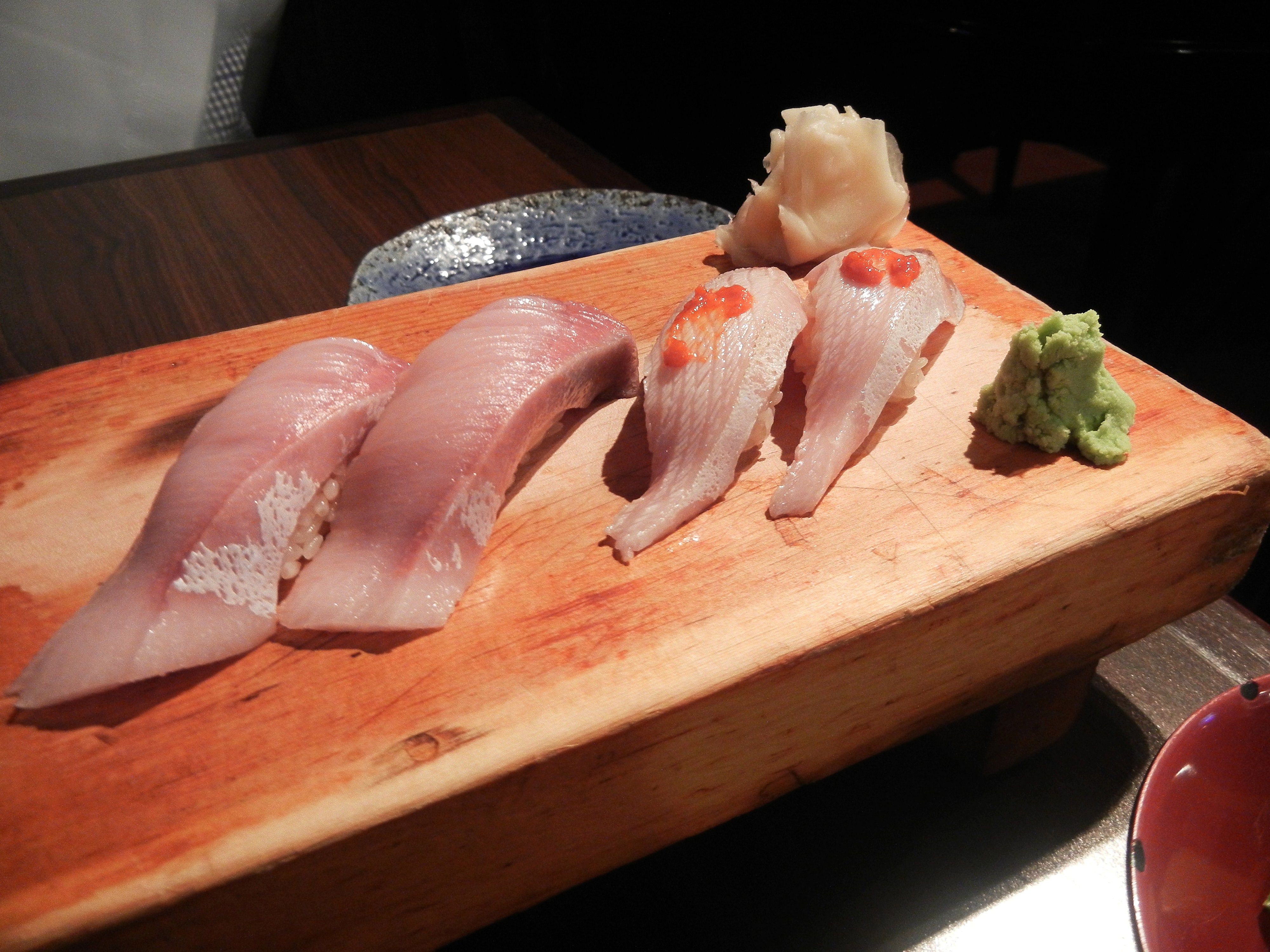 Hamachi Toro (and some other fish I can't remember)
The sushi rolls are decent. They're not fancy, but they're executed nicely and the fish is always fresh. However, the portion sizes are a bit small in comparison to other places of the same caliber quality and price range. [SIDE NOTE: for fancy sushi at reasonable prices, check out Sushi Bistro in the Richmond.] Specialty rolls range from $7-$14.50 and usually only comprise of five pieces (sometimes six, if it's a smaller roll). Continue reading →