A Little More Oaktown Lovin'
Well, it seems that since the last time we took to the cityseekr blog to defend the East Bay, it has blown up! The New York Times recently named Oakland the #5 (out of 45) place to go in the world in 2012, sandwiched right in between tourism powerhouses London and Tokyo (check out the article here). Did I mention that was OAKLAND that made the list and not San Francisco? So yes, I know this column is supposed to be about the entire East Bay, and I promise that will still be the case, but it seems clear that this month it's time to specifically honor what the Huffington Post is calling "the coolest new kid in the country," my and MC Hammer's hometown, Oakland.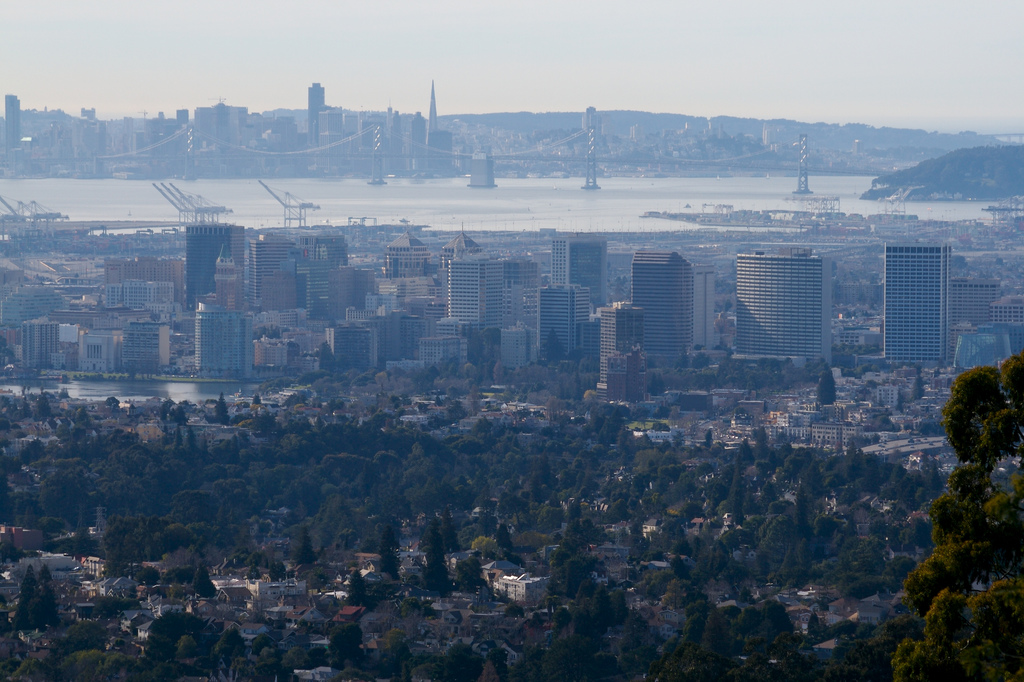 Now many people upon first hearing this newest Times designation say, "Really? Oakland? Why?" And the periodical will answer you: it's all about the downtown renaissance. Oakland likes to consume. For several years now, Downtown Oakland, and really many other areas of the city as well, has been revitalizing, especially when it comes to the funner things in life: food, booze, art and music.  In their little blurb the New York Times mentions some of the more exciting dining and drinking newcomers, so we'll be skipping those here. However, in every category they mention, their examples, while all very recommendable, only scratch the surface of the awesome variety of places to eat, drink and enjoy the artistic and cultural offerings that are really starting to abound in The Town. Yes, Oakland has a Michelin star and all kinds of fancy establishments, but even though this is its newest incarnation, the city's kitsch and grit are really what make it so unconventionally fun and charming. Really, Oakland is highly successful at having a fantastic collection of places with all kinds of different atmospheres to fit any mood, whim or occasion.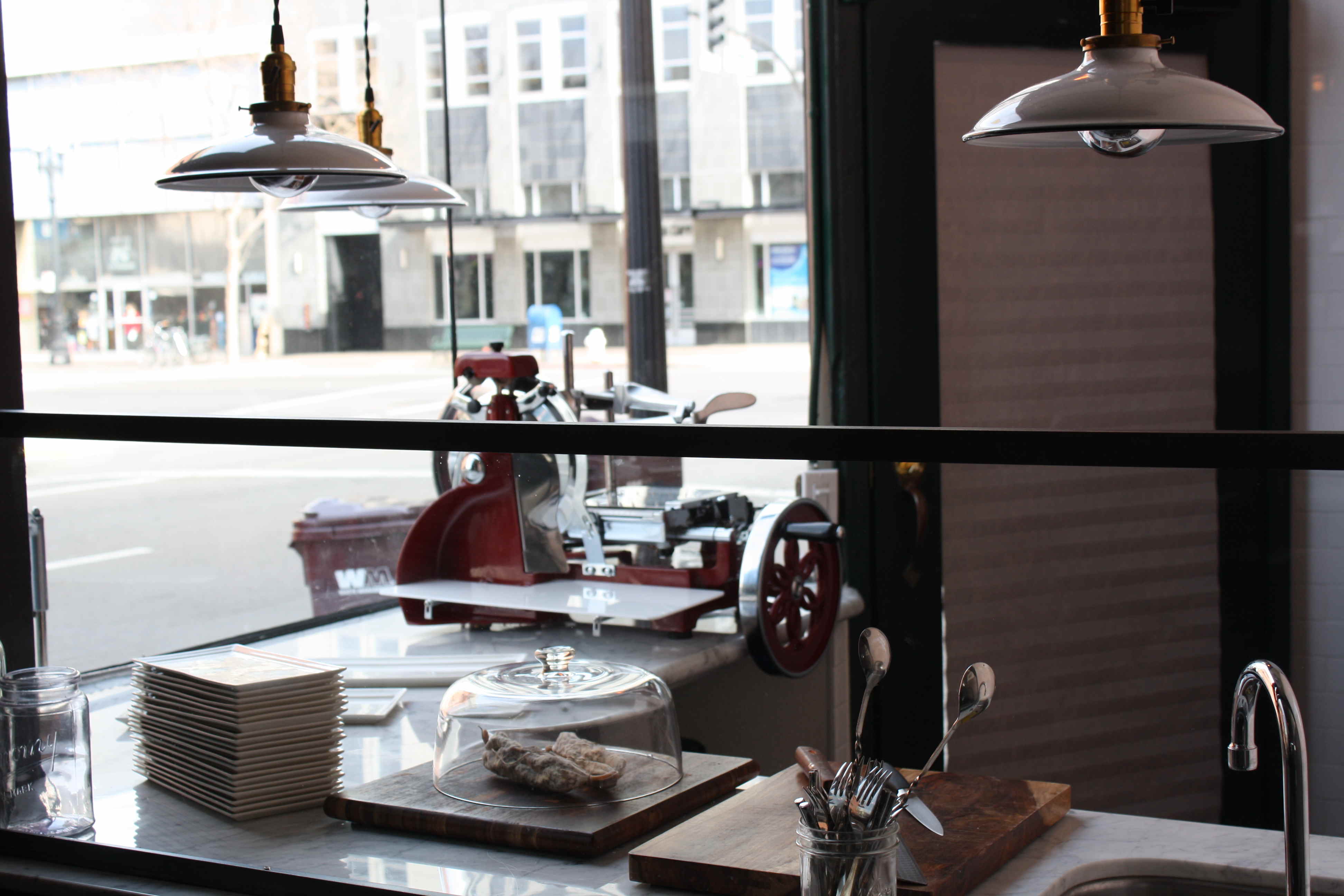 Photo courtesy of Bar Dogwood
The DTO (that's "Downtown Oakland" to all you non-savvy folk) and Uptown (and of course the rest of the city as well) are brimming over with bars and eateries. If you want to go along the more upscale lines, you could head to Bar Dogwood for one of their specialty cocktails and the main attraction: the Charcuterie and the salty, fatty goodness of cured pork products. And cheese. Don't forget the cheese.  If cured meat products are your bag, Adesso on Piedmont Avenue wins the crown. The menu includes dozens of different types of house-cured meats. Their happy hour is killer too, as those sitting at the bar get to experience a virtual tasting menu of dishes free of charge. As far as other nice drinking establishments in the area, Make Westing is one of Uptown's newest additions. Owned by Oakland natives, the bar features two full-sized bocce ball courts inside the bar; folks, they're the only ones in Oakland who can say that.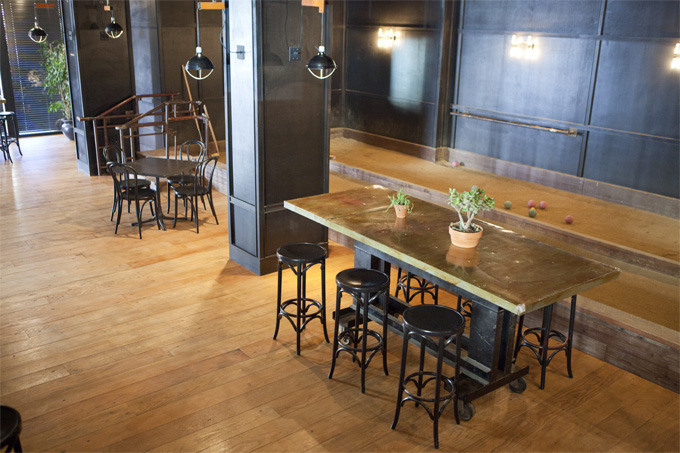 Photo courtesy of Make Westing
As far as entertainment beyond booze goes, Oakland has plenty of that too. As the NYT mentioned, the historic Fox Theater is probably Oakland's current most popular venue. They get a large percentage of the city's big name musical acts; artists like Flogging Molly, Queens of the Stone Age, Mary J Blige and Cake have graced the stage just in the last year. However, the DTO also has another, even more famous, even more historic theater in the Paramount. It is here that you will find some of your favorite old movies screening on weekends, complete with intermission and bar services. They also are the home of the Oakland Ballet Company and the Oakland East Bay Symphony. For those who care less about the big name musical acts and more about say, intellect, the Paramount also hosts an Oakland Speakers Series monthly. And let's not forget that it has even been known to host the occasional premiere like that of the Hollywood blockbuster Moneyball, starring Brad Pitt, much of which was actually filmed on location at the Oakland Coliseum.  For jazz aficionados, a smaller venue exists in Yoshi's Jazz Club, which at some point has hosted pretty much all of the jazz world's greats. It also comes with some high class Japanese grub. Relative newcomer The New Parish hosts all kinds of shows, mostly within the hip-hop and R&B genres (town favorites, of course.) Recently acts have included Oakland native and favorite Too $hort, Dave Chapelle, Lauryn Hill and perennial reggae band Midnite.  The Uptown, the bar which its neighborhood was basically named after, also hosts some big name shows; most recently that was Dick Dale. However, on almost any night of the week you can stop in to the Uptown and see some kind of live music or performance, whether it's a big name, just a cool local band or some other kinds of crazy shenanigans. The newest member of Oakland's live music scene is Vitus (formerly the Oakland Metro Operahouse), which mostly hosts local bands and traveling groups still working their way up the proverbial ladder. They also have skee-ball. Again folks, they're the only bar in the city that can say that.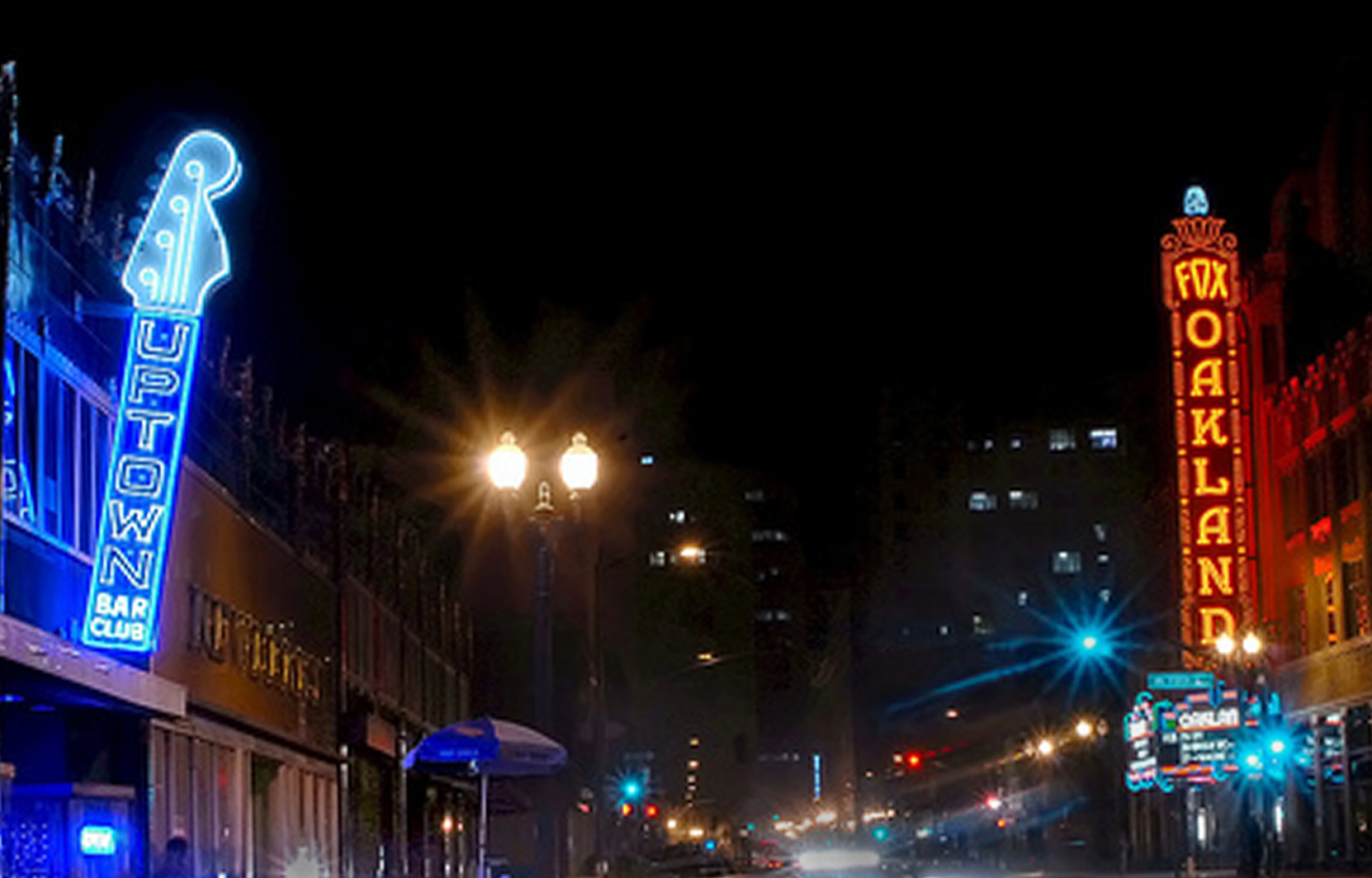 Photo courtesy of The Uptown Nightclub
Maybe you're in the mood for something a little more…regular. Don't worry, we have those too. As far as eating goes, Aunt Mary's Café, due to its appearance on the Food Network, is no longer a secret, but it is definitely one of Oakland's most popular breakfast and brunch destinations. They cook up southern classics like their six-pound bowl of Shrimp and Grits or their Pain Perdu (French Toast) made using bourbon and strawberries. Bourbon with breakfast – awesome, right? However, Oakland doesn't really like to do "regular," so moving towards the more unique establishments (without yet resorting to total kitsch,) Grand Tavern resides in an actual house. When you walk in you are seated in what would have been the living room, complete with (non-functional) fireplace. As far as the libations go, they specialize in super traditional pre-Prohibition era cocktails, meaning the realest Manhattan or Sazerac you've ever had. Also, they have some tasty small bites if you get peckish.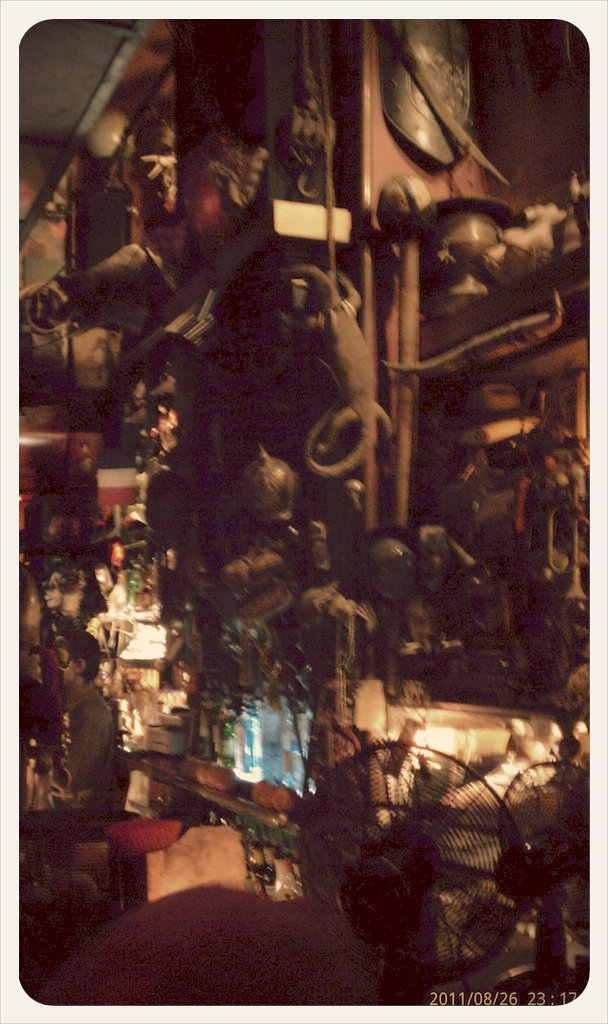 Oakland also has an abundance of straight up kitsch. If you're feeling the itch for something a little different, never fear. In Uptown, Café Van Kleef (pictured right, photo by agahran. CC by 2.0) is the number one candidate. Ever played a drunken game of I Spy in a bar? No? Well that's probably because most of your bars aren't that interesting. Van Kleef, on the other hand, has no shortage of interesting things to look at. Practically every inch of wall space is dedicated to some interesting and unique piece of decoration. They are also world famous (or at least citywide) for their Greyhounds, which they make from grapefruit juice you can watch them squeezing freshly at pretty much any point throughout the night. They also garnish the drink with a giant slice of grapefruit, so you feel healthy at the same time that you feel drunk. Many nights of the week you can catch live shows too. The Alley, located practically right next to city centerpiece Lake Merritt, is one of the most kitschy and unique bars in all of Oakland. The Alley is straight old school, with the walls covered in old business cards, a mini shack inside, no beer on tap and they grill up some mean meat. The Alley's burger is probably one of Oakland's best kept secrets. The steak sandwich isn't half bad either. However, what really makes the Alley amazing is the fact that it is an actual Piano Bar. They have a whole songbook where anyone who wants to can get up and fancy themselves a lounge singer for a night…or at least for a song anyway, accompanied by the swingingest pianist on the Oakland bar scene. The Kona Club offers up its own particular brand of kitsch as only a Tiki bar can do, complete with a (maybe) mechanical tropical hula girl and a volcano they'll detonate on your birthday. And let's face it, it's really hard to not have a good time in a Tiki bar.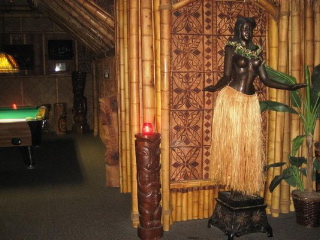 Photo courtesy of The Kona Club
People tend to forget that Oakland is actually full of history. Jack London (the guy who wrote White Fang) used to hang out frequently in Oakland at a bar that is actually still there. Heinold's First and Last Chance Saloon is located (and has been since 1883) in the aptly named Jack London Square. As a matter of fact, Johnny Heinold lent Jack London the money to attend the University of California to study to become a writer. The bar, they say, still looks much the same as it did over 100 years ago, so the old timey feeling is for real. While they have an awesome outdoor area, the inside of the bar is super tiny and fun. The bar itself is slanted at a pretty steep angle and only seats a few people. As for places that serve food, the newly opened Rudy's Can't Fail Café features an extensive Barbie collection and retro diner feel. It is smack in the middle of Uptown, open till 2am and has alcoholic milkshakes and $1 beers after 10pm. Win. It does a pretty popular breakfast too. However, no Oakland establishment is more popular for your early meals than Mama's Royal Café. The walls are covered in awards the cafe has earned over the years as well as napkin art by customers and various other local and customer art. Oh and the food. Let's just say "waffle bigger than your head" and leave it at that.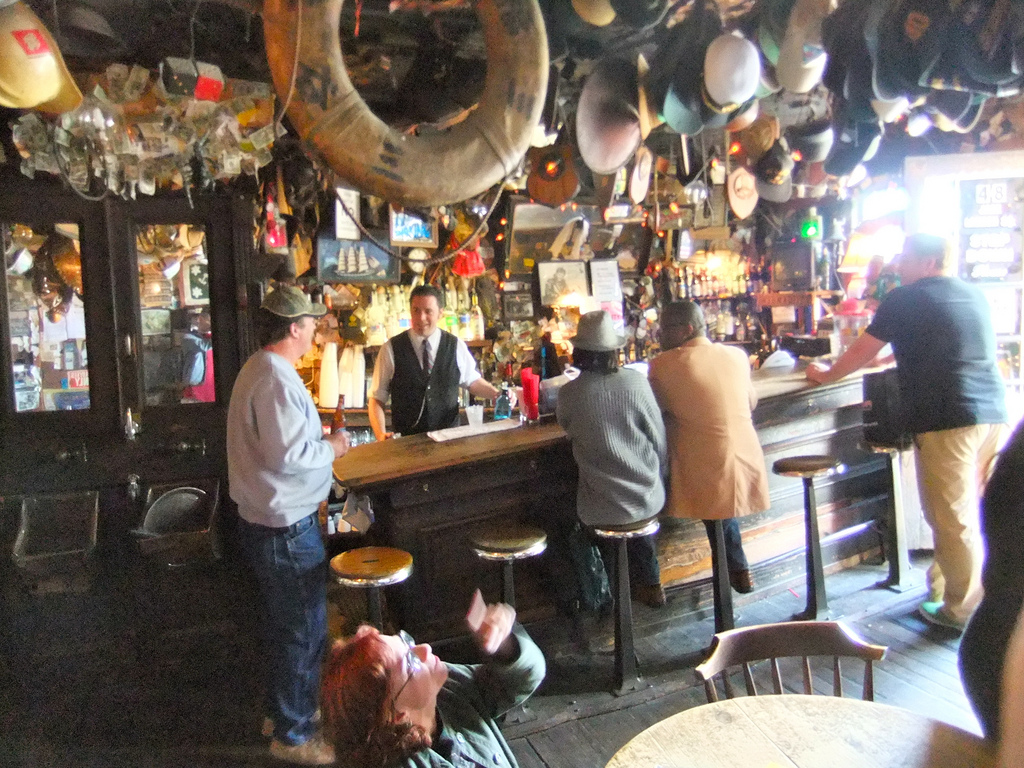 Photo by James Cridland, CC by 2.0
Okay. Now let's get to the real down and dirty. Part of what Oakland's residents love about their city is its realness and grit, and Oakland is king of the dive bar. I'm talking places with sticky floors, mean bartenders and where the most popular cocktail is a $2 PBR tall can. If you're lucky maybe they'll have a TV or some dice for you to play with. One of the diviest Oakland has to offer is Merchant's Saloon near Jack London Square, which has been around since 1916, filling sailors and merchants with liquid courage to face their journeys to points unknown. The bar is almost hidden with no real visible sign on the outside, so don't expect to find many (or really any) tourists here. The great thing about Merchant's is that you can just go ahead and not care about what anyone thinks there. It's a place for hard drinking but especially hard fun; a favorite haunt of people looking to hole up in a dark, dirty bar with a bottle and a beer. They have a few TVs and often host specials for big sports games. They also host shows occasionally and have a lot of room, making it a good place for a rowdy gathering. Ruby Room, just up from the lake is another favorite dark drinking spot. The bar's most distinguishing feature is how dark it is inside, mostly lit with red (hence the name). There is also an indoor smoking room (a plus for many fans of dive bars) with pool tables (a plus for many fans of bars in general), making Ruby a favorite den of vices. Warning: the bathrooms there are not for the faint of heart. DJs play most weekends and some other nights, and there is even a decent sized dance floor. Ruby, like Merchants, is also a great place for groups to meet up for a fun night on the town. Now I realize some people may require a little more entertainment than staring at an age-stained wall lined with booze bottles, so places like Eli's Mile High Club and the Stork Club feature local bands many nights of the week; Eli's even has a surprisingly full food menu and both places have outdoor smoking areas, as is befitting any worthy dive bar.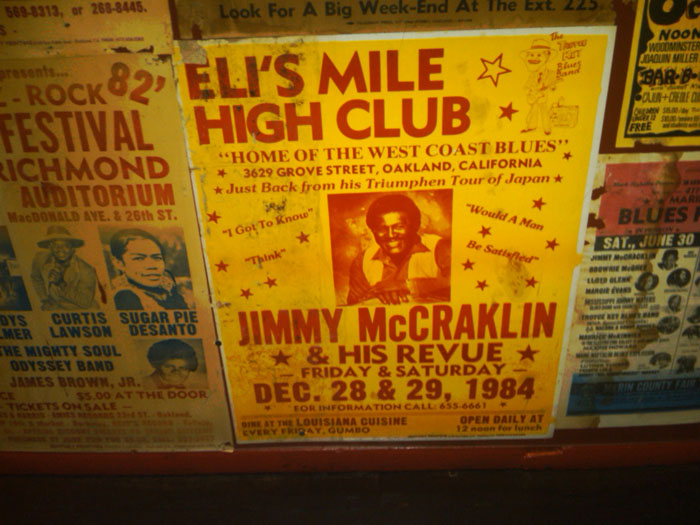 Photo courtesy of Eli's Mile High Club
Don't just take my word for it though…you can take the word of the Times' or the Huff Post's or pretty much anyone who's ever given Oakland a chance. You'll be more than pleasantly surprised.