It's winter time in San Francisco and that means…that the Richmond and Sunset neighborhoods aren't foggy. For these few, short months, seasonal equilibrium reigns and I think it is an excellent time for folks to venture to my part of the city. To celebrate being fog-free, I will be writing a series of reviews showcasing the best eating of the Richmond and Sunset. I shall wear my stretchiest jeans.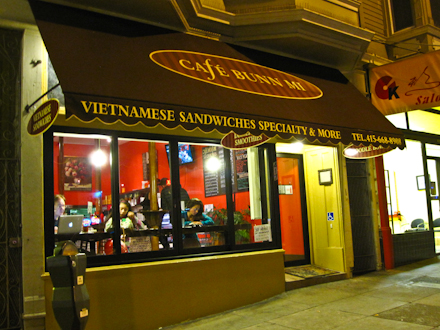 Cafe Bunn Mi on Clement Street.
Cafe Bunn Mi opened in the summer of 2011 to little fanfare, but has gradually built up a loyal following thanks to its clean, pretty space, friendly staff and its slightly nontraditional take on banh mi. It also serves pho, rice plates, and other dishes, but really…go here for the sandwiches. The freshly baked bread is crisp, but not dry, and it has the right amount of give for an absolute stuffing, which is how Cafe Bunn Mi generously serves its sandwiches.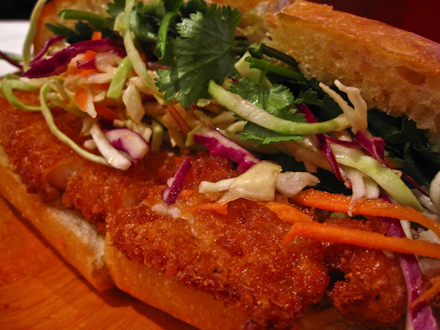 Fish banh mi. 
I am partial to the fish banh mi, which features breaded sole, perfectly cooked, Vietnamese coleslaw and a ridiculous amount of cilantro. I am one of the genetically cursed who cannot bear even the sight of cilantro curling out of my food, so luckily it was in big, easy-to-remove pieces. The pork belly sandwich was a tender, flavor-packed bomb of cubes of garlicky pork belly, boiled egg and coleslaw.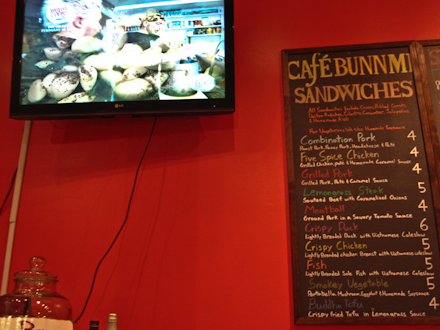 Two excellent ways to stimulate an appetite.
As I was eating, I enjoyed watching the Food Network's evening programming; nothing says entertainment like the hopes of aspiring chefs being dashed because they chopped their parsley at the wrong angle. Having that TV is a genius move on Cafe Bunn Mi's part – if the warm smells of fresh bread and meat wafting from the kitchen don't spike your appetite, Paula Deen will get you with her guileless smile and maple sugar-coated bacon.
Cafe Bunn Mi
417 Clement Street, San Francisco 94118
Phone: 415-668-8908
Do you agree with this review? Let us know in the comments section, or via our Facebook and Twitter accounts!