Yes yes, another Korean restaurant. I fully intended to venture into the Inner Sunset and stuff my face with crack chicken (that's for another day) but, well, I was tired. It was cold. And Muguboka has the misfortune of being so close to my apartment that I can literally spit on it.
Muguboka is very plain outside and in; its name isn't even written on the awning and instead, is on a tiny sign hidden on the side of the building.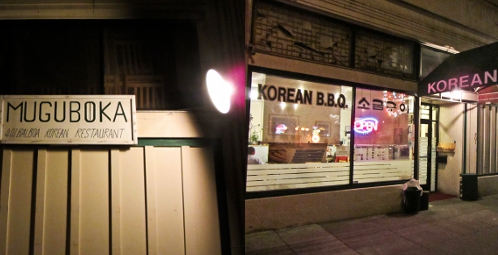 It specializes in what I qualify as home-style Korean cooking – lots of classics, cooked competently. The flavors have definitely been Americanized somewhat – the gochujang for the bibimbap tastes like it has been watered down, the kimchi jiggae lacks a certain edge (that edge, as amply demonstrated at restaurants in Korea, often left me gasping for water).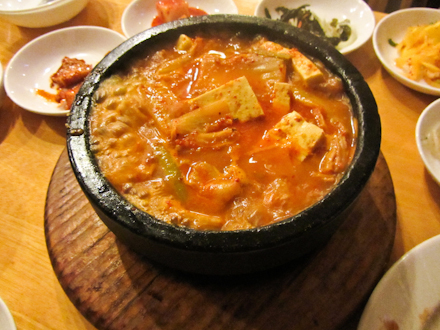 If only you were a little spicier…
But Muguboka definitely hits plenty of right notes. The banchan is plenty and varied. The staff eagerly brings you thoughtful freebies (sometimes this is a seafood pancake; sometimes a steaming bowl of soup) and will fill your side dishes happily – once you catch their attention. We ordered their fried chicken for the first time, and it was nicely seasoned, with just the right note of sweetness. Their décor is a touch quirky; it's not often you see a framed bible quote juxtaposed with a photo of a topless woman advertising alcohol positioned directly below (and best of all, I think it's entirely accidental).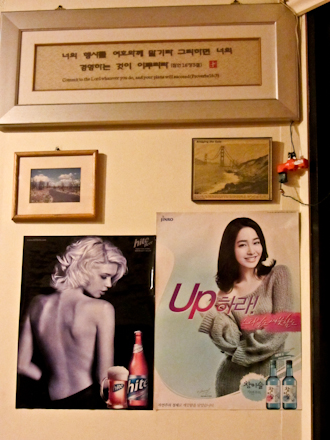 Proverbs 16:3, and the saucy Hite lady
I wouldn't recommend Muguboka to any stern-faced SF foodies, looking for the Most. Authentic. Korean Food. Ever. But that's okay, really – I would like to keep Muguboka hidden from them, where I can walk the three meters from my apartment to their door, and enjoy my soup and bottomless side dishes free from reproach.
Muguboka
401 Balboa Street, San Francisco, 94118
Phone: 415-668-6007
Do you agree with this review? Let us know in the comments section, or via our Facebook and Twitter accounts!