In fall 2010 my husband and I spent our belated honeymoon in London. We had planned our trip so as to accommodate our main interests: music and art.
Our main shopping destination was Sounds of the Universe, which is not just a record store, but a true institution. Suffice it to say that Sounds is associated with the mighty Soul Jazz record label, famous for its compilations of top-notch funk, reggae, avant-garde jazz, dub, no wave, and world music. Soul Jazz also publishes beautiful books (such as Kanaval—Vodou, Politics and Revolution on the Streets of Haiti) and releases DVDs. The atmosphere in Sounds of the Universe is not unlike San Francisco's Aquarius Records, with knowledgeable and dedicated staff playing underappreciated albums and singles (the soundtrack to our record-browsing was some magnificent heavy dub). The difference is that Aquarius's primary interest is avant-garde metal and noise, and Sounds of the Universe, just like Soul Jazz, has its main focus on Black music genres and their progeny, such as the various strains of contemporary bass music. Apart from Soul Jazz releases there are records and CDs put out by other independent labels. Sounds of the Universe recently started its own label, the first release of which was a 12″ by Chicago house and techno producer Hieroglyphic Being.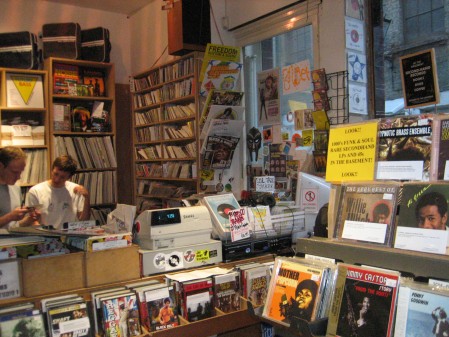 Sounds of the Universe. Photo courtesy of Julia Glosemeyer
To hear some cool new sounds live, we headed to Fabric. It is a giant, labyrinthine club, known for being very democratic: no one will turn you away at the door if your clothes are not expensive. Snobs might hate Fabric because it is so large and crowded, but I adore the fact that you can enjoy gigs by the most cutting-edge DJs in a non-elitist setting. When we were there, we heard sets by young dubstep producer Gemmy as well as drum 'n' bass institution Roni Size. If you want to brave Fabric and bypass the long lines, get a membership. For a monthly fee you will get not only priority entry, but also CDs delivered to you by mail. Recent additions to the Fabric and FABRICLIVE CD series have included mixes by Four Tet, Pinch, Agoria, and Pearson Sound/ Ramadanman.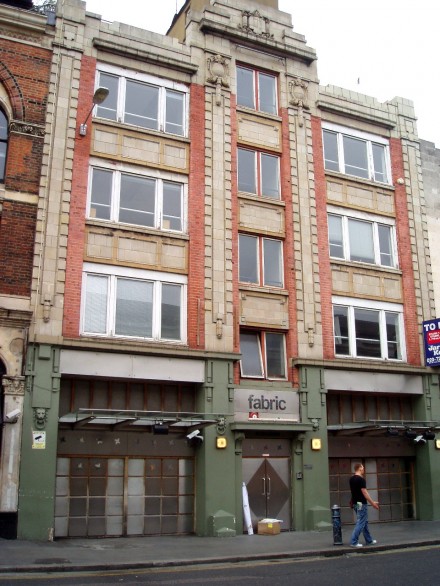 Fabric. Photo courtesy of Ewan Munro. CC BY-SA 2.0
The Tate Modern contemporary art museum has something in common with Fabric, in that they both are always filled to the brim with human masses. But hey: aren't you glad that poor students can see all that art for free? Yes, Tate Modern, just like many national museums, is free (you have to pay only to see the special exhibitions). I won't bore you with detailed descriptions of all the works in the permanent collection, just advise you to see the room with Soviet political posters (it's kind of tucked away, and some visitors don't even stop there—their loss). And if you want to engage in some gluttony, head to the Tate Modern café, where I had one of my most delicious meals of the whole London trip.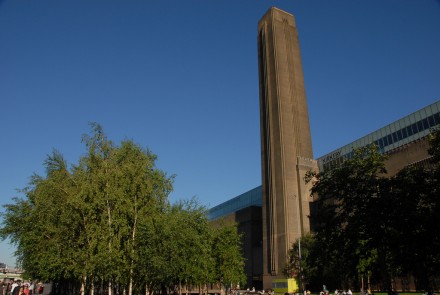 Tate Modern. Photo courtesy of Wcities
Another go-to place for art nerds is the Institute of Contemporary Arts (ICA), an exhibition space on the Mall which boasts a distinguished history. The ICA was the venue for many a controversial show, most famously "Prostitution," organized in 1976 by the performance art group COUM Transmissions (which would later morph into the experimental band Throbbing Gristle). The exhibition, dedicated to group member Cosey Fanni Tutti's work as a pornographic model, prompted a conservative MP to call the collective "wreckers of civilization." At the time of our stay in London, the ICA was showing interesting work by the Russian art collective "Chto delat?" ("What is to be done?") You could watch their film about gentrification in St. Petersburg while lying on a giant bed.
The ICA is also famous for its bookstore, where all the intellectual fashions of the moment are amply represented. If you are as prone to hoarding art and cultural theory books as I am, another place to visit would be the Whitechapel Gallery, where a lot of important titles are sold. Not to mention, of course, the fact that the gallery also organizes thought-provoking contemporary art exhibitions.
London might be disliked for many reasons, such as crowdedness, surveillance cameras, or conspicuous signs of grotesque income inequality. But all in all, nobody can deny that it is a great place to fill one's head with knowledge and enjoy oneself in many different ways. Someday I am going to vacation there again.
What do you think of these London art attractions? Let us know via the comments section, and don't forget to follow cityseekr on Facebook or Twitter!