We here at cityseekr understand times are tough, and many of us might find it difficult to enjoy a decent bottle of wine on a budget. However, what many don't realize is that the selection of delicious but affordable wines available at such grocery outlets as Trader Joe's or Safeway is quite expansive, indeed.
Long gone are the days when great bottle of wine would run no less than $15. Unfortunately, this was a time when the average wine enthusiast related the actual cost of the wine with its resulting taste–i.e., the more expensive the wine, the better it will taste. This correlation was, and still is, certainly false. Many wine producers, distributors and sellers took advantage of the economic "miracle" of the last decade and over-charged for wine that would most definitely turn the noses of even the least experienced of wine connoisseurs. Today, market forces have driven down the cost of wine to something more manageable for the 99% of us who have barely $10 a week to spend on such beverages.
The proposed format of my reviews will include one red and one white wine selection, chosen mostly at random, or by label (if I find the label to be particularly captivating). Every now and then, I may review an apéritif or a beverage best enjoyed after dinner or during dessert. In the end, my goal with this series is to bring to your attention several affordable but delicious wines available at your local grocery store, my thoughts on how they taste, and whether or not I recommend that you buy a bottle.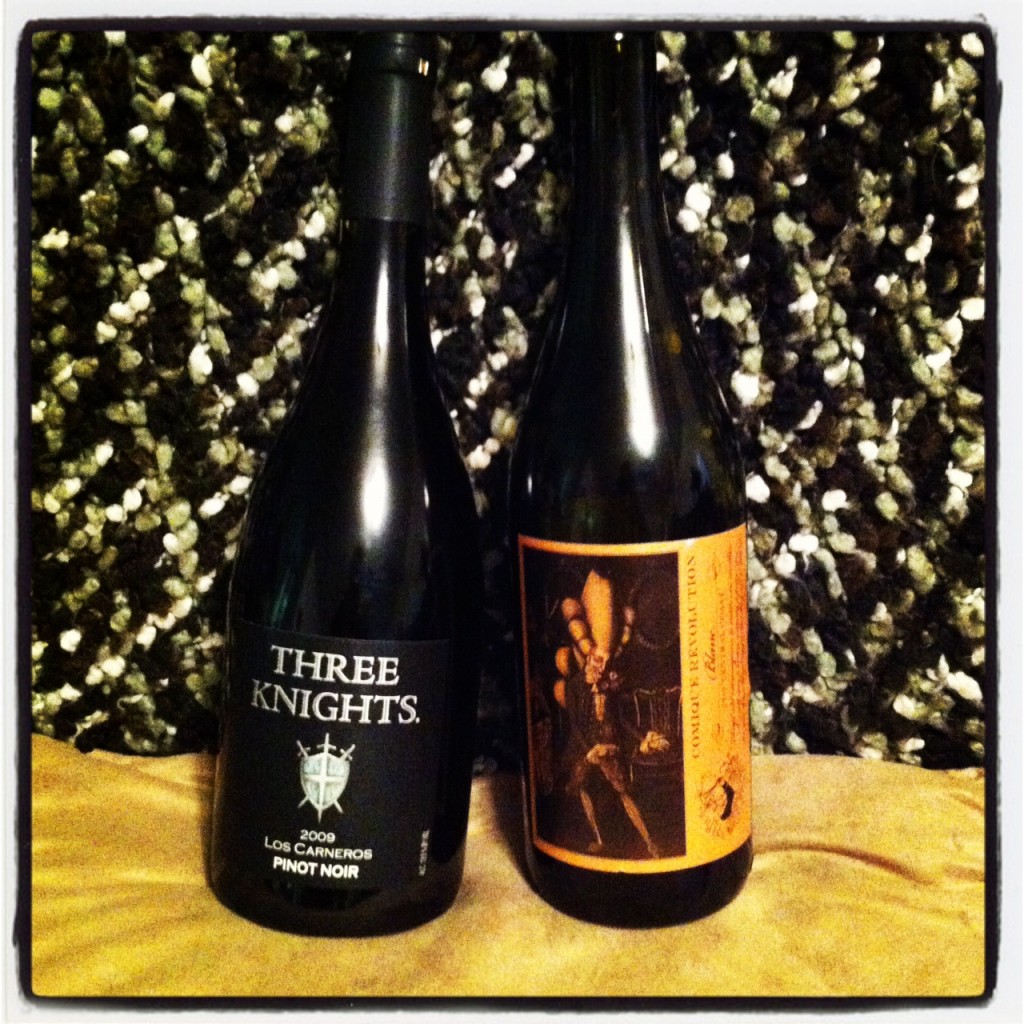 This week I'll be reviewing two wines showcased by Trader Joe's: Comique Révolution Blanc (Central Coast) and Three Knights Pinot Noir (Los Caneros).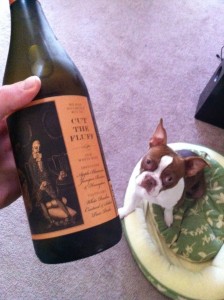 Beginning with the white wine selection, Comique Révolution Blanc Wine (Blend: Roussanne, Viognier, Grenache Blanc and Marsanne; ABV: 14.5%), at $4.99, is one of Trader Joe's more popular budget wines. What drew me immediately to the bottle was the wine's fascinating Baroque label, which showcased two illustrations of two comically bewigged 17th-century figures. Indeed, the label seemed to promise a decadent oenological experience–highlighting the wine's aroma of apple blossoms and juniper berries as well as flavors of white peach and custard–a combination of sensations that would be right at home in the dining halls of Versailles during the reign of the Sun King. However, tasting the wine proved to fall short of the complexity promised by the label. The aroma did pass muster, and I must say the wine's fragrance was quite fresh and appetizing. However, I found the flavor to be a bit too tart for my tastes. The more subdued and almost savory tastes of white peach and custard were instead replaced by a more biting, citrusy flavor. Overall, the wine was good for the price, but somewhat forgettable. Props, however, go to the wine's ingenious label and delicious aroma.
Label: 4/5 (fun label; a little too wordy)
Aroma: 5/5 (smells great!)
Flavor: 3/5 (taste differs from description; a little too tart and uninteresting for me)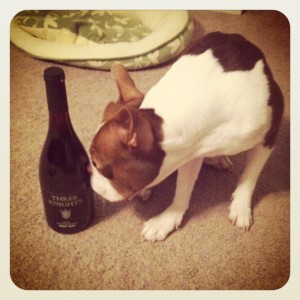 The red wine selection I sampled (and drank in its entirety) is an $8.99 Pinot Noir from the Los Carneros wine region of Sonoma County called Three Knights (Blend: Pinot Noir, Syrah, ???; ABV: 13.5%).  The label for this wine was much simpler, with silver lettering and a coat of arms set against a black background that lent a sort of Medieval Spanish vibe to the bottle–which I found to be appealing. Once opened, the wine let out a very interesting fragrance of pepper, vanilla and oak, which was nice, if not a bit predictable. The taste, however, blew me away. I'm a sucker for more robust reds such as Syrahs and Cabernets, but tend to avoid them when I am unable to fork over a decent amount for a label I trust. However, the Three Nights Pinot not only captured the savory, almost buttery, essence of the Syrah, but managed to almost perfectly fuse that with the fruity/floral overtones of the Pinot Noir. Unfortunately, we're not privy to the ingredients of the proprietary blend that completes the concoction, but I must say that this wine is truly a bargain for the quality.
Label: 4/5 (a little too minimalist for me, but very tasteful nonetheless)
Aroma: 4/5 (nice aroma; nothing new, though)
Flavor: 5/5 (you'll be surprised you didn't pay at least $20 for the bottle)
So there you have it. Hopefully this will be the first in a long series of reviews about budget wines you can find on your weekly grocery trip. The rating system is basic, and that may expand or change over time–or I may just keep it the same. Feel free to comment or send me an email if there is anything different you'd like to see with these reviews or if you have any suggestions for wines or how we can make this series better overall.
Have you tried the wines reviewed this week? What did you think? Let us know via the comments section, and don't forget to follow cityseekr on Facebook orTwitter!