Meet Zhuoran, one of our new interns visiting from China. A few weeks ago we took her to the San Francisco Museum of Modern Art (SFMOMA), a few blocks away from our office. Below are her reflections.
When I first walked into SFMOMA, the first thing I saw was thousands of white computer-controlled LED spheres hanging from the ceiling; they dimmed and grew brighter, creating shapes. It was hard to see what the shapes were, but later when we went upstairs the shapes were clear: two dark figures boxing or practicing gongfu (kung fu). Very interesting. It was a new temporary installation designed by Jim Campbell, a local SF artist.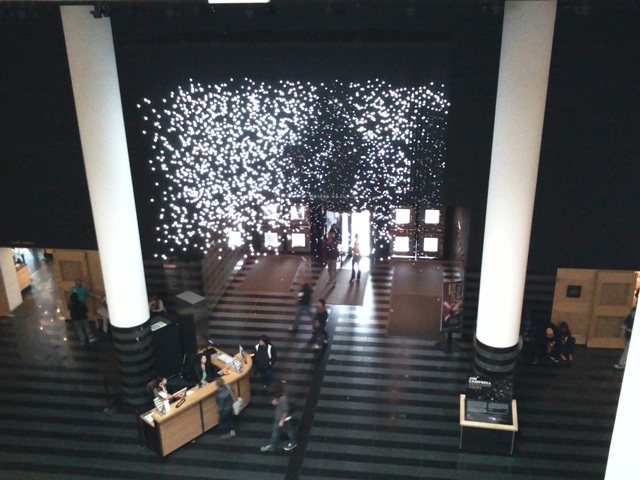 SF MOMA Lobby
Visiting SFMOMA was a good opportunity for me to better understand the fine art of photography. Before, I imagined photographers were just people with fancy cameras. I thought if the camera was good enough and the subject matter was beautiful enough (for example, super models or a scenic view) then their job was easy. After visiting the museum, I learned that photography is more than that.
SFMOMA has a large photography section and was the first museum in the United States to recognize photography as an art form.
The portrait photography of Cindy Sherman, SF MOMA's newest exhibit, is fantastic. Not all of the subjects depicted in the photos are good looking or have big smiles on their faces, but they are all realistic; some of them are even ugly or dull. In Cindy's early career, she did not have money to hire models, so she photographed herself in her own costumes.
We saw a series of photographs depicting "society ladies," that is, ladies from rich and important families. While they were well-dressed and wore makeup, they looked sad. Every picture has a story to tell, and that story can be discovered in the details of the photograph. One of the portraits shows a woman dressed in an expensive blue gown but wearing cheap pink plastic shoes. I could imagine many stories about her. For example, perhaps she is a servant trying to disguise herself…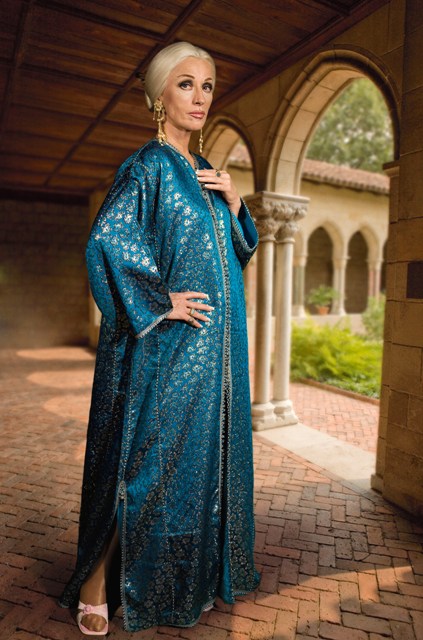 Cindy Sherman, Untitled #466, 2008; chromogenic color print; 8′ 6″ x 70″ (259.1 x 177.8 cm); The Museum of Modern Art, New York, acquired through the generosity of Robert B. Menschel in honor of Jerry I viagra cherche. Speyer; © 2012 Cindy Sherman
 In another picture, I could see the misery in the eyes of a young woman; her face was exquisite but looked full of darkness and expectations. Although there is not much else in the image except the young woman lying there, I could imagine her life; perhaps she is waiting for her long lost love or perhaps she is sad because she's poor. This is why I love Cindy Sherman's work; I can always find something different from the details in the photos.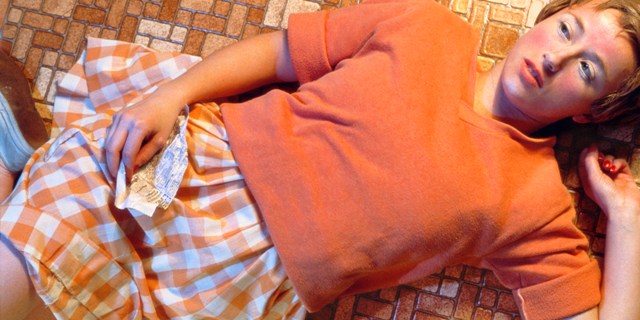 Cindy Sherman, Untitled #96, 1981; chromogenic color print; 24 x 47 15/16″ (61 x 121.9 cm); The Museum of Modern Art, New York, gift of Carl D. Lobell; © 2012 Cindy Sherman
Another photography section that impressed me was the pictures of disasters. These were photographs by Naoya Hatakeyama, of the aftermath of the 2011 Tohoku earthquake and tsunami. These photos show us the power of natural disaster against human life. Pictures of the destruction of  the tsunami and volcanic eruptions are also impressive. Hatakeyama's work ranges from peaceful scenery to fierce eruptions. The exhibition included magnificent videos made from thousands of photos described above. How dangerous it must have been, taking pictures there! I admire his professionalism and dedication.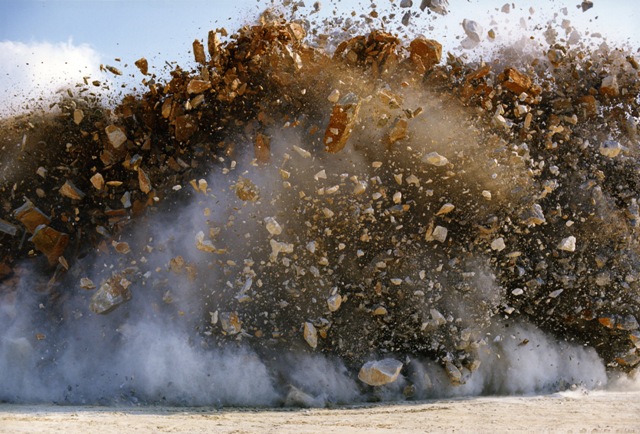 Naoya Hatakeyama, Still from Twenty-Four Blasts, 2011; HD video installation from a sequence of 35 mm film; Courtesy the artist; © Naoya Hatakeyama, courtesy Taka Ishii Gallery
Finally we came to the permanent collection of paintings downstairs. To tell you the truth, I love paintings, especially oil paintings and traditional Chinese paintings. I learned that you can see different things when you examine a painting from different distances. Viewing one large painting up close, you can clearly see the colors and the lines that make up the image. If you step back from the painting, you can enjoy how each brush stroke comes together to form a cohesive image.
When I was young, I liked drawing pictures and called my work "abstract paintings." They were pretty ugly. I drew random things and and colored them in. Here I found the same type of art (just kidding!). I have to say I think people who do abstract art are either really crazy or really funny. Nobody knows what they are thinking about – maybe love for life, passion for art…or just something really weird. Sometimes their pieces look like little kid drawings. Maybe they are some kind of symbol that represents more complicated things. Or not. I love it when the artist makes the meaning unclear. In the end, all abstract art is subjective, so it is fun to discover your own personal meanings.
Before leaving, I took another look at the photos. I wondered where the  inspiration came from, and why the photos were internationally famous. I found that all the photographs evoked special feelings that can be appreciated. I think the purpose of visiting museums is not just to see beautiful and amazing  images, but also improve our understanding of art. We should strive to learn the stories behind the works and imagine what the artist was thinking when working on the pieces. Then we can get what we want for our heart and soul.
What do you think of Zhuoran's experience? Let us know in the Comments section or via our Facebook and Twitter accounts!