The spirit of the beat generation and legendary publisher Lawrence Ferlinghetti are cause for inspiration as our intern explains in this final part of the series. Books, history and culture are just the beginning of her adventure in North Beach.
I'm Janis from Beijing, China, and I am working as a summer intern for Wcities. San Francisco has always been an attractive city to me, maybe because of a few glimpses I have seen of it in the movies or because of the song by Scott McKenzie. This is the second time that I've been to the US. I joined a summer camp seven years ago, and we traveled from the West Coast to the East Coast but missed San Francisco somehow. So, I'm here this time.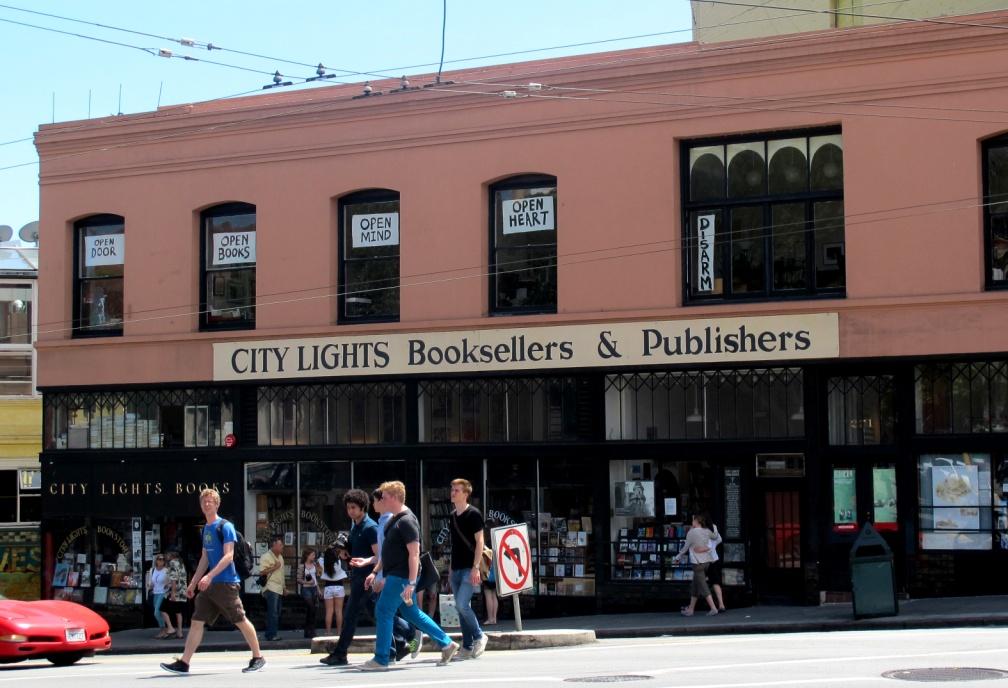 It's pretty difficult for a non-native English speaker like me to read and understand English literature. But great literary works can transcend boundaries of nations, genres and time. I don't remember the first time I heard about the Beat Generation. However, I do remember that it was the music of Bob Dylan, the Beatles and Jim Morrison that drew me to this bunch of writers and their works – they all cite the Beat as one of their major influences. On June 1, our fourth day in San Francisco, two friends and I paid a visit to City Lights Bookstore and Vesuvio Café in North Beach, the home of the Beat poets.
We walked northbound straight down Columbus Avenue, crossed Pacific Avenue, and Jack Kerouac Alley was right in front of us. With Vesuvio on the left and City Lights Bookstore on the right, we felt like we were standing at a great intersection of the world's literary history. Looking down, we saw many stones engraved in the ground with quotes from Lawrence Ferlinghetti, Jack Kerouac and others.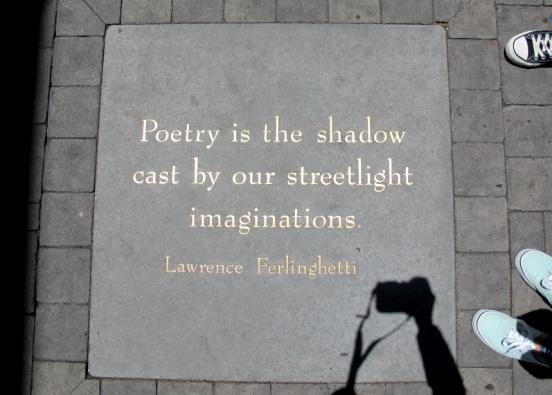 Vesuvio Café is a creaky two-story bar founded by Henri Lenoir in 1948. It was a regular hangout of some central figures of the Beat, including Jack Kerouac, Neal Cassady and Allen Ginsberg, whose photos are hanging on the wall. What first caught my eye was the sign of Vesuvio, where there is drawn a person sitting on a barrel in the nude, holding a cocktail. It is an interesting sign because I couldn't figure out whether the drawing was of a man or a woman. I tried to guess what the designer wanted to say – maybe a blur of genders? A challenge to accepted standards? Or just a person trying to relieve pressures and find a sense of freedom? I believe there is no right answer since everyone has his or her own understanding.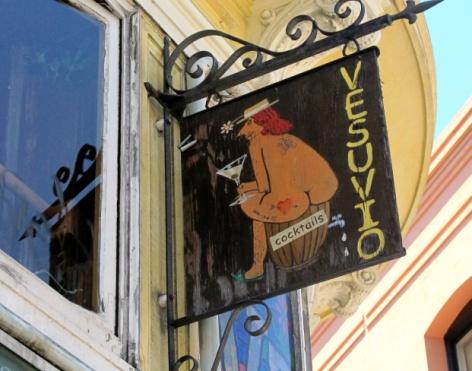 We didn't linger very long because we were not old enough to drink alcohol, though we were eager to do so. Next time when I come back, which I'm sure I will, I will order an Anchor Steam, go up the narrow stairs to the second floor, get a seat by the window and while away an afternoon with my friends. Maybe for a few minutes, we will feel like beatniks.
Crossing Jack Kerouac Alley, we walked through the door of City Lights Bookstore. This independent bookseller and publisher was founded by Lawrence Ferlinghetti and Peter D. Martin in 1953. The bookstore celebrated its 60th anniversary about two weeks after our visit. In 1955, Ferlinghetti heard Allen Ginsberg read "Howl" at the now-famous poetry reading at the Six Gallery. Ferlinghetti then decided to publish it along with some other shorter poems – "Howl and Other Poems." The book and City Lights itself didn't draw much attention until Ferlinghetti and the bookstore manager were arrested for selling the "obscene" Howl in 1957. On the trial, Judge Clayton W. Horn concluded that the book did have some "redeeming social importance" and it was fully protected by First Amendment. He eventually found Howl not obscene. This case became a landmark precedent in later cases against other banned books. I believe to some extent Howl and City Lights made each other.

There is a sign hanging in the doorway saying, "Abandon All Despair Ye Who Enter Here." Walking through it, I entered the main room. An impressive selection of fiction by English and European writers can be found here. It was very quiet in the room. People were reading, quietly selecting books and whispering. The second floor is a poetry room, which is a nod to past legendary poets. It has a large collection of poetry by almost anyone you can think of and a separate section for Beat literature. Over the stairs I walked up hangs another wooden board saying "Where the Streets of the World Meet the Avenues of the Mind." My friend took a picture of me and my newly bought copy of "Howl." Then I went downstairs to the basement. It is a bit more cluttered and louder than the main room, but everything is in order. Some really interesting and weird books can be found here, as well as books about sex.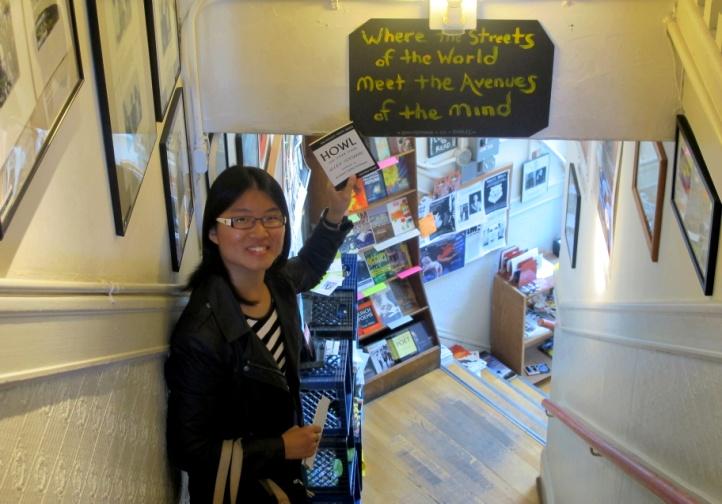 More than being a literary landmark, City Lights Bookstore was an inspiration to me. It is a rare place where books, writers and the spirits truly matter. The trip to Vesuvio and City Lights Bookstore was an extraordinary step back in time. It was one of my best experiences in San Francisco and will be the reason I come back.