HaCkeD By SA3D HaCk3D
Long Live to peshmarga

KurDish HaCk3rS WaS Here
fucked
FUCK ISIS !
Contributing writer Tom Aussems from The Netherlands introduces a new blog series focusing on  unique neighborhoods around the world. Each segment of this series highlights an interesting niche of a major city that proves to be amazing and off the beaten track.
The power went out in Paris' 18th arrondissement. Tucked away in a cobblestoned alleyway, it was quite the adventure to make it back to the room. The run-down hotel showed little aspiration of earning a second star, with its springy bed, stale croissants, and magnificent views of the next-door neighbor's toilet. However, that particular trip to one of Paris' shabbiest neighborhoods sparked a desire to absorb local culture and follow paths less traveled. Eating airy sugar-coated crêpes, sipping soda in smoky cafes and strolling Clignancourt's anonymous streets might not be mentioned in tourist guides, but these experiences prove to be more fulfilling than anything offered in pre-packaged deals. Before you know it, you'll find yourself staring at real estate pamphlets, daydreaming of becoming part of the neighborhood, rather than merely visiting.
An authentic and vibrant local lifestyle unfolds away from downtown's silly dance: a bunch of tourists sprinting in the same direction, queuing up for coffee, and taking pictures of street signs. Wandering through these areas, where hop-on-hop-off buses are banned and big retail chains are unwanted, puts travelers in locals' rather than tourists' shoes. Captivated by the Eden-like neighborhood atmosphere, travelers create lifetime memories and develop a strong desire to experience a feeling of belonging. Ultimately, that is what makes traveling and discovering new places so rewarding.
This series attempts to focus on neighborhoods that may not appear on a typical tourist's list, but nonetheless, offer unique local vibes. Due to snobbish traits or indulgent motives, sheer simplicity is often overlooked when travelling. Thankfully, invaluable experiences don't usually require a fat wallet. Just forget about the nearest cathedral for a second. Take a break and settle down on a bench in the shade of a hidden parklet with a locally brewed tallboy. Throw away the travel book and rely on your senses to lead your way to neighborhood gems, completely off the beaten track.
Disney's plan to build a theme park just a few miles outside of Paris was met with opposition from those who feared cultural imperialism from an American company. However, today Disneyland Paris and the accompanying Walt Disney Studios receive over 15 million visitors each year, which makes it the most popular tourist destination in Europe.
I recently visited the park with a few friends; we figured that Paris + Disney + Christmas = MAGIC. Despite our enthusiasm and optimism, the idea of visiting Disneyland Paris made me feel a bit uneasy. In my mind there could only be two dramatic results: complete disappointment or utter exhilaration. Would Disneyland Paris be an exact replica of Disneyland Anaheim? Or would it be completely different? I was determined to see what made the park unique from its American cousin, and whether or not the park planners made any cultural accommodations.
Disneyland Paris good: Getting to Disneyland from Paris is a breeze! Paris' RER commuter trains make several stops in Paris and continue to Marne de la Vallé, the suburb where the park is located. Trains come roughly every ten minutes; the ride takes about 35 minutes and costs approximately 22EUR round trip. The train station is located at the gate of Disneyland, right next to the awesomely pink Disneyland Hotel. Besides the RER trains, there is also a SNCF station that receives French national trains and high-speed TGV trains. There is even a shuttle that brings visitors to the park from Charles de Gaulle Airport and Orly Airport. Already, Disneyland Paris' transportation options put it far ahead of its Anaheim counterpart, with its enormous parking lots and massive parking structures.
Walking into the park, everything looks eerily like the U.S. version. In fact, the layout for both Disney parks is almost exactly the same. A cheery and nostalgic Town Square greets visitors and behind that, Main Street USA with its charming old-fashioned candy shops, boutiques and arcades leads the crowds to a central plaza and the foot of Sleeping Beauty's castle. Compared to Sleeping Beauty's castle in California, the castle in Paris is not quite as wide, although the towers definitely appear to be taller. Shiny gold accents and stained glass give the castle a rich look, while cube-shaped trees add an air of whimsy.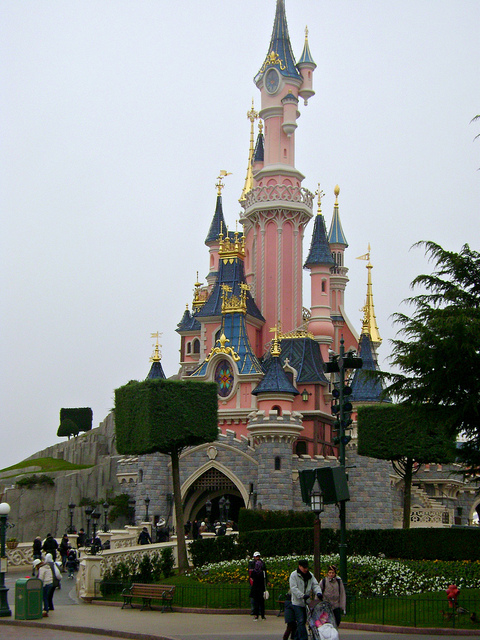 Stained glass and brilliant gold accents on Sleeping Beauty's castle.
THIS versus THAT: Cemetery Showdown
Some may find it strange to visit a cemetery while on vacation.  However, cemeteries can often times help convey centuries of history, literature, politics and art.  In particular, Père-Lachaise Cemetery in Paris and Recoleta Cemetery in Buenos Aires are two fantastic examples of cemeteries that are attractions in themselves. The tragic stories, beauty and solemn peace found amongst the tombstones is simply to die for!
Paris
Situated in the 20th Arrondisement of Paris, the Père-Lachaise Cemetery is a veritable who's who of French and international writers, musicians, politicians and the wealthy elite.  Built in 1802 and stretching across 110 acres of north-eastern Paris, the cemetery was actually not a very popular with many Parisians who preferred to buried closer to the city center.  All that changed in 1804 when Molière and La Fontaine's remains were transferred here, giving the grounds much needed prestige.  Previously, Moliere's remains had rested in a cemetery that was reserved for unbaptized babies due to the fact that at the time of his death, actors were not given proper burials.  Molière's move to Père-Lachaise over 125 years after his death definitely cemented his position amongst France's literary heroes.  Over the next 200 years the cemetery became the final resting place for many of France's beloved artists, including Chopin, Balzac, Pissaro, Edith Piaf, Proust and Yves Montand. Interestingly enough, two of the most visited graves at Père-Lachaise do not belong to Frenchmen, but rather an American and a Brit. Jim Morrison's grave is by far one of the most visited graves in the cemetery. . . and it is also the one that attracts the most graffiti and vandalism.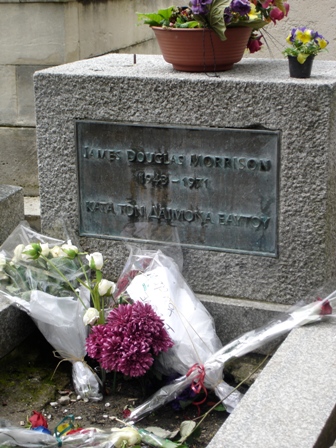 Photo courtesy of Liz Gancher