Disney's plan to build a theme park just a few miles outside of Paris was met with opposition from those who feared cultural imperialism from an American company. However, today Disneyland Paris and the accompanying Walt Disney Studios receive over 15 million visitors each year, which makes it the most popular tourist destination in Europe.
I recently visited the park with a few friends; we figured that Paris + Disney + Christmas = MAGIC. Despite our enthusiasm and optimism, the idea of visiting Disneyland Paris made me feel a bit uneasy. In my mind there could only be two dramatic results: complete disappointment or utter exhilaration. Would Disneyland Paris be an exact replica of Disneyland Anaheim? Or would it be completely different? I was determined to see what made the park unique from its American cousin, and whether or not the park planners made any cultural accommodations.
Disneyland Paris good: Getting to Disneyland from Paris is a breeze! Paris' RER commuter trains make several stops in Paris and continue to Marne de la Vallé, the suburb where the park is located. Trains come roughly every ten minutes; the ride takes about 35 minutes and costs approximately 22EUR round trip. The train station is located at the gate of Disneyland, right next to the awesomely pink Disneyland Hotel. Besides the RER trains, there is also a SNCF station that receives French national trains and high-speed TGV trains. There is even a shuttle that brings visitors to the park from Charles de Gaulle Airport and Orly Airport. Already, Disneyland Paris' transportation options put it far ahead of its Anaheim counterpart, with its enormous parking lots and massive parking structures.
Walking into the park, everything looks eerily like the U.S. version. In fact, the layout for both Disney parks is almost exactly the same. A cheery and nostalgic Town Square greets visitors and behind that, Main Street USA with its charming old-fashioned candy shops, boutiques and arcades leads the crowds to a central plaza and the foot of Sleeping Beauty's castle. Compared to Sleeping Beauty's castle in California, the castle in Paris is not quite as wide, although the towers definitely appear to be taller. Shiny gold accents and stained glass give the castle a rich look, while cube-shaped trees add an air of whimsy.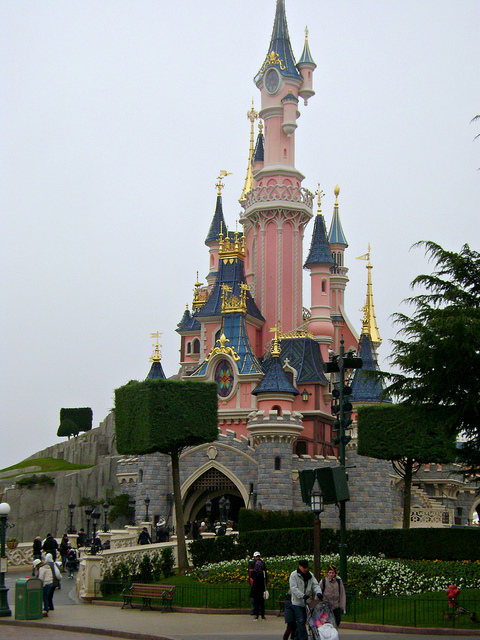 Stained glass and brilliant gold accents on Sleeping Beauty's castle.
Fantasyland, found just behind the castle, is again almost an exact copy of Fantasyland in California. Carousel? Check. Flying Dumbos? Check. Pinocchio, Peter Pan, and Snow White dark rides? Triple check.  However, there is no Mr. Toad's Wild Ride – I guess sending families on a frenzied ride that ends in hell may not exactly fly well with Europeans. Also, no Alice in Wonderland dark ride. However, the classic teacup ride at Disney Paris is very elaborate and even has a glass roof to protect guests in case of rain. Adjacent to the teacups is Alice's Curious Labyrinth, beautiful maze sprinkled with props from the film. One more difference: the storybook ride in Paris seems to focus more on fairly tales and lacks that enormous whale with open jaws found in Disneyland Anaheim. As most visitors accustomed to the original Disneyland, I expected to see the Matterhorn soaring to the right of Fantasyland. Nope, no Matterhorn. This left me disappointed and confused. Not only is the Matterhorn one of my favorite rides, it also makes sense to have it at Disneyland Paris – I mean, it's Swiss. Do the French not like the Swiss? Do they not care for huge fake mountains with red-eyed abominable snowmen?
Despite my disappointment, we moved east towards Tomorrowland, which is renamed here as Discoveryland. I am not quite sure why the name is different; perhaps it is easier to say for European mouths?  Star Tours is exactly like the old ride at Disneyland California, before it was completely renovated. As an extra bonus, the robots speak to you in French, which is both weird and adorable. The real gem of Discoveryland is Space Mountain: Mission 2. Originally, the ride was based around Jules Vern's 1865 novel, From the Earth to the Moon. The ride was re-imagined as a continuation of the classic story in 2005. Unlike the ultra-white appearance of Space Mountain in California, Space Mountain: Mission 2 is colorful, features a huge cannon that is partially open, and since it is a relatively new ride…it's way more intense.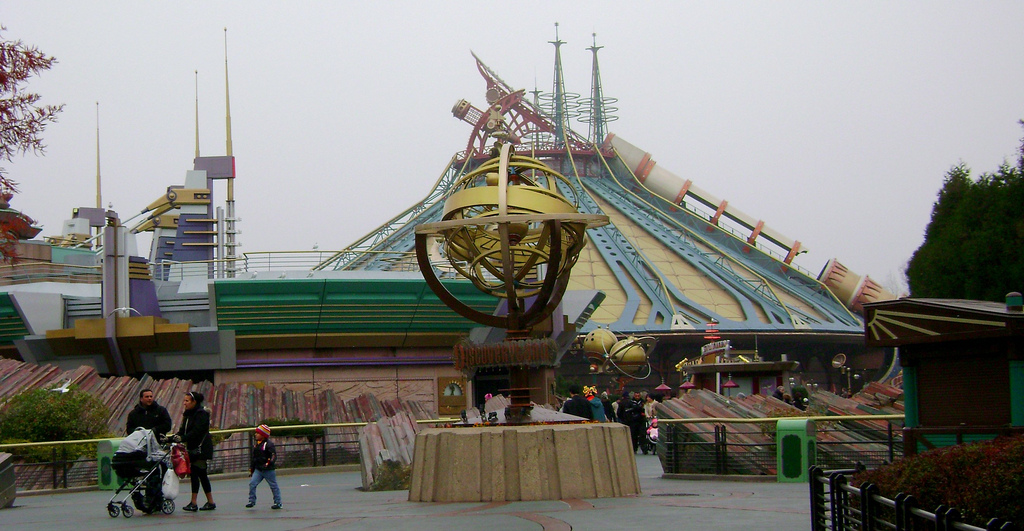 This beats Space Mountain in Anaheim any day.
Noticeably faster than its California counterpart and with more daring twists, Mission 2 is amazingly exhilarating. This is a good example of how Disneyland in Anaheim shows its age when compared to a newer park. The original Space Mountain ride has been renovated a few times but the original tracks from 1976 remain unaltered. Mission 2 is almost 20 years younger and as an added bonus, it's much more attractive, with gold accents, a wooden interior and Victorian touches. Right next to Mission 2 is another Jules Vern inspiration, Les Mystères du Nautilus. This is a walk-through attraction of the Nautilus from 20,000 Leagues under the Sea. Most people seem to walk past it, not really knowing what it is. Admittedly, it is a bit inconspicuous because there is no line and the entire attraction is underground. In any case, these two attractions seem to prove the obvious: Europe loves Jules Vern.
Cutting across the central plaza we encountered a live action show taking place on the stage in the center of the square. Mickey Mouse speaks French in Disneyland Paris. That is not a surprise. What is interesting, is that not all the characters speak French. During the course of the short skit, Mickey was joined on stage by the genie from Aladdin, Merlin from the Sword in the Stone and the fairy godmother from Cinderella. Needless to say, the show was all about magic. All the characters on stage spoke French except for the fairy godmother who inexplicably spoke English. I suppose this highlights the challenge of building a park for a diverse European audience. It made me wonder if certain characters are designated to be English-speaking, or if  having one English-speaking character on stage is the  park organizer's way of throwing anglophones a bone. Watching Disney characters interact in French definitely reminded us that we are not in southern California (as if the 37 degree weather was not enough).
We marched on to Adventureland which was like stepping into a whole new world…

Entrance to Adventureland. "Riff-raff, street rat!"
Unlike Adventureland in California, which is jungle-themed,  Adventureland in Paris is Aladdin-themed. It's beautifully decorated with cobalt tiles, torches and delicate blue glass lamps, all set against terracotta colored buildings. While there are no Aladdin-themed rides in Adventureland, there is a restaurant, a bazaar, and a walk-through attraction that shows the story of Aladdin in fantastic miniature scenes. You get to see this at the exit: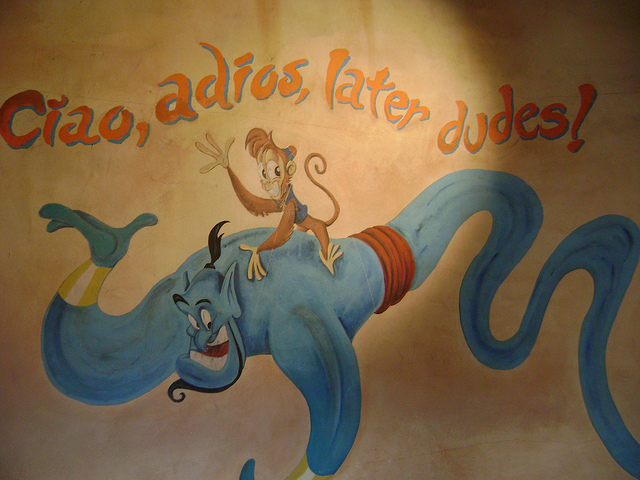 Auf widersehen and au revoir did not fit on the wall.
Sadly, there is no Jungle Cruise, a classic ride, but the Swiss Family Robinson tree house is enormous. Also, no Enchanted Tiki Room in Paris, or the accompanying Dole frozen treats. This side of the park is also missing New Orleans Square and Critter Country. It may be devastating to hear, but there is no Splash Mountain at Disneyland Paris. However, Pirates of the Caribbean is done out in a big way. While the ride itself is almost identical to the Anaheim version, the outside is much more impressive: the ride is enclosed in a fortress with a lookout tower and a shipwreck on an artificial beach which also has a  playground. Located nearby and also very impressive is Indiana Jones et le Temple du Peril. Instead of riding along a bumpy road in a jeep, you are taken on a ride in a runaway mine cart. The idea is that you are at an excavation when something goes terribly wrong and you are whipped around the temple at high speed with sudden turns and drops and an unexpected 360 degree loop. Just like  Mission 2, we were not prepared for the intensity of the ride, although we were pleasantly surprised.
By the time we got around to Adventureland, it was already mid-afternoon so we decided to head over to Walt Disney Studios for a few hours. Just like Disneyland in Anaheim has a second park, California Adventure, so does Disneyland Paris: Walt Disney Studio Park. Significantly smaller than the main Disney park, Walt Disney Studios gives visitors a "behind-the-scenes" look at movie production. It's a bit reminiscent of L.A.'s Universal Studios, glorifying Hollywood's golden age of films. Posters of American movies are sprinkled throughout the park and everything is made to look as if you have stumbled onto a movie set in southern California. The Tower of Terror can be found here, but that is pretty much where the similarities end with California Adventure. No giant Mickey roller coaster, no Ferris wheel, no fake Santa Monica pier or Fisherman's Wharf. Instead, the attractions at the Walt Disney Studios seem to be loosely related at best. There is the Moteurs Action live action stunt show, the Aerosmith Rockin' Rollercoaster, an adorable Stitch Live! show, Toy Story Playland and an Aladdin magic carpet ride that really seems as if it belongs in Adventureland. By far my favorite ride from this park was Crush's Coaster. What started off as a cute, slow-paced ride through the Great Barrier reef, quickly accelerated and spun out of control. Interestingly, the cars have the ability to spin as they take sharp turns and twists, which makes for a fun and jostling experience.
Opening hours for the parks are rather limited compared to Disneyland in California. Officially, Disneyland Paris closes at 7p and Walt Disney Studios closes at 6p, but while we were there, both parks stayed open an extra hour. During the summer both parks are open until 9p, a far cry from midnight closings in Anaheim. Part of the reason the parks in Paris close so early is because, unlike the California parks, there is no nighttime show. Nothing along the lines of the spectacular World of Color at California Adventure, or even Fantasmic! at Disneyland, not even fireworks. Disneyland Paris ends the night with a parade which changes seasonally. Since we visited right before the holidays, we got to see a Christmas parade, along with this: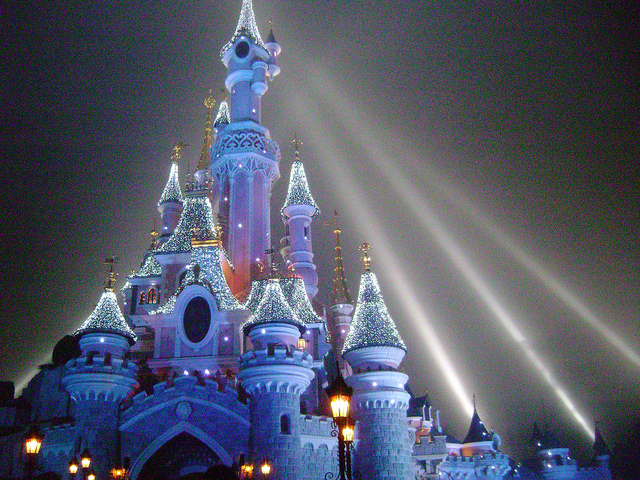 Can you feel the magic? It tingles, right?
Extensive  fog all over Europe almost made us miss our flight home, but it also added to the magic of Disney after dark. Despite blatant omissions from the original Disneyland park in Anaheim, Disneyland Paris definitely displays a dedication to story, fantasy and an exquisite attention to detail that one would expect from a Disney park. Perhaps because I grew up visiting the original Disneyland in California, I am a bit biased. Even when I compare both parks practically, Disneyland in California still wins just by sheer number of attractions. Despite the insufferable crowds, the Disneyland resort in California has so much to offer guests, that the Paris park almost presents itself as an abbreviated version. It must be noted that the Disneyland Paris is a gorgeous park, with beautiful details that make the park interesting and unique. If I found myself in Paris for more than three days, I would definitely want to return to the park…but perhaps in warmer weather.
Have you been to any of the Disney theme parks outside of the U.S.? We want to hear your thoughts! Let us know in the comments section or via Facebook and Twitter!