Disney's plan to build a theme park just a few miles outside of Paris was met with opposition from those who feared cultural imperialism from an American company. However, today Disneyland Paris and the accompanying Walt Disney Studios receive over 15 million visitors each year, which makes it the most popular tourist destination in Europe.
I recently visited the park with a few friends; we figured that Paris + Disney + Christmas = MAGIC. Despite our enthusiasm and optimism, the idea of visiting Disneyland Paris made me feel a bit uneasy. In my mind there could only be two dramatic results: complete disappointment or utter exhilaration. Would Disneyland Paris be an exact replica of Disneyland Anaheim? Or would it be completely different? I was determined to see what made the park unique from its American cousin, and whether or not the park planners made any cultural accommodations.
Disneyland Paris good: Getting to Disneyland from Paris is a breeze! Paris' RER commuter trains make several stops in Paris and continue to Marne de la Vallé, the suburb where the park is located. Trains come roughly every ten minutes; the ride takes about 35 minutes and costs approximately 22EUR round trip. The train station is located at the gate of Disneyland, right next to the awesomely pink Disneyland Hotel. Besides the RER trains, there is also a SNCF station that receives French national trains and high-speed TGV trains. There is even a shuttle that brings visitors to the park from Charles de Gaulle Airport and Orly Airport. Already, Disneyland Paris' transportation options put it far ahead of its Anaheim counterpart, with its enormous parking lots and massive parking structures.
Walking into the park, everything looks eerily like the U.S. version. In fact, the layout for both Disney parks is almost exactly the same. A cheery and nostalgic Town Square greets visitors and behind that, Main Street USA with its charming old-fashioned candy shops, boutiques and arcades leads the crowds to a central plaza and the foot of Sleeping Beauty's castle. Compared to Sleeping Beauty's castle in California, the castle in Paris is not quite as wide, although the towers definitely appear to be taller. Shiny gold accents and stained glass give the castle a rich look, while cube-shaped trees add an air of whimsy.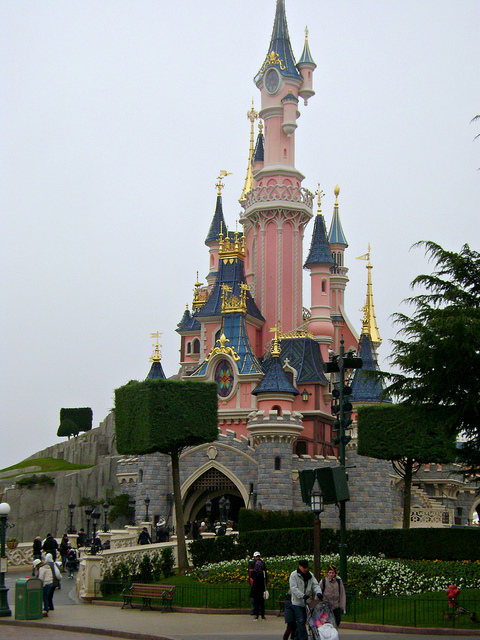 Stained glass and brilliant gold accents on Sleeping Beauty's castle.