Hello, I'm Maki Dan. In Japan, I'm studying architecture and majoring in structural engineering and disaster prevention, especially for earthquakes. Right now I'm in San Francisco, working at Wcities as an editorial intern for one month. Although I am in San Francisco for a very short time, I've experienced a lot and have seen many beautiful buildings. I'd like to write about buildings in San Francisco and their differences to Japanese buildings, based on my feelings and knowledge about architecture. In addition, I'd like to write about some of my experiences here.
City level
urban design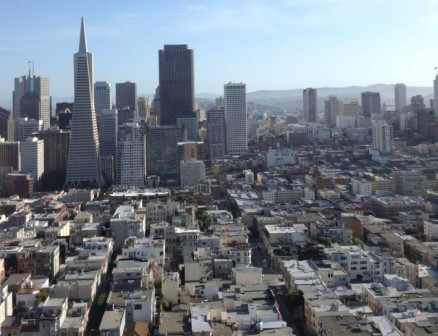 This is a view from Coit Tower. San Francisco's urban design is grid pattern. This kind of grid design can also be seen in many other cities in the United States. In Japan, we also have a city which has a grid pattern, Kyoto. In Japanese, Kyoto is translated as "Goban-No-Me", which means Go equipment (Go is a popular board game mainly played in Asia). I have been to Kyoto once, and I found that both Kyoto and San Francisco have some similarities.
First, all streets have different unique names. For example in San Francisco, my office is located on 2nd Street and my hotel is located on Post Street. As for Kyoto, the famous temple Kiyomizu-dera is near Higashi-Oji Street. There is also Nishi-Oji Street, Kujyo Street, Ichijo Street, and so on, as famous streets. You can learn more about Kyoto's streets in following link.
Streets in Kyoto: http://www.kyoto-travel.com/kyoto-information/information-kyoto-streets.html
The grid design and unique street names are very useful to travelers, allowing you get to your destination easily in these cities, even if it's your first visit. I was able to get my office without any trouble the first time, keeping in my mind only which streets to change direction. If you have a chance to visit Japan, I strongly recommend that you to visit Kyoto the first time (not to mention Kyoto is one of the greatest cities for sightseeing). By the way, how is my city, Tokyo? When you visit Tokyo for the first time, you shouldn't try to find your way by yourself if you get lost. Tokyo is so complex and disordered that I have to ask people for directions sometimes, although I've already lived in Tokyo for almost 15 years. For example, ABC Street has 10 Streets from ABC 1 Street to ABC 10 Street, and they are not aligned in order, like that the street next to ABC 1 Street is ABC 4 Street. This might have a historical reason. Tokyo is not a city which was designed with an urban plan and developed from nothing. So, the names of each street were decided chronologically. But Tokyo is also one of the greatest cities for sightseeing in Japan.
Building, Structure level
The best architecture that I have encountered here  is the Golden Gate Bridge, a landmark of San Francisco. However, for me it's not only a landmark or a tourist attraction, but a great teacher that shows me that such a grand and beautiful structure can be man-made. The Golden Gate Bridge was completed in 1937. I could not believe it is a 76-year-old structure! Its beauty and endurance is just as surprising to me as the Egyptian pyramids. I think the Golden Gate Bridge is one of the greatest bridges in the world.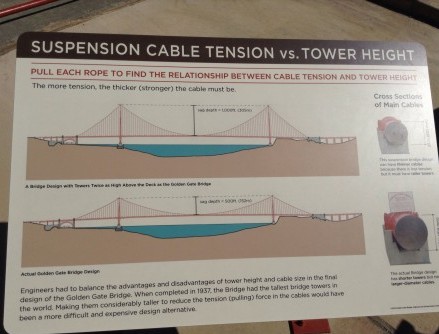 I found an interesting explanation board near the bridge, which explains how the design team decided the exact height of the bridge and the thickness of the cables. You can understand why the height is the best one according to a financial point of view. This is exactly what I'm studying at my university. I was very surprised that they could solve that kind of problem without computes; although it is not such a difficult problem, it would be much more difficult to solve without modern tools.
It was a really great experience for me to visit Golden Gate Bridge. I went to the bridge on foot this time, so I'm planning to ride a bike next time.
I visited SFMoMA with my co-worker, Alba. I love to visit museums, especially for contemporary art, so it was really exciting for me and I enjoyed it very much. As for the building, SFMoMa was designed by Mario Botta, and this building is one of Botta's most important works.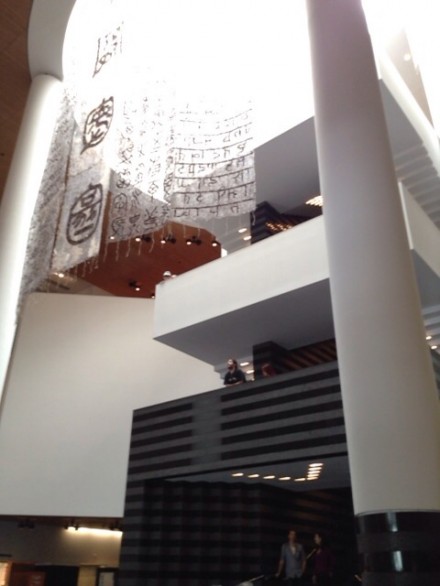 This building has a quite unique facade. As for interior, it has a large open space and the entrance hall is built in open ceiling style through the top of the building. The biggest difference with Japanese museums that I felt was its scale. I felt the same thing when I went to AT&T Park to watch a baseball game. It seems like buildings here are built on a larger scale than those in Japan.
SFMoMA will begin an expansion in  June, so I was really lucky to come at this period. The expansion work will be completed after two years. The extension is designed by Snøhetta (an architecture and landscape designer group). It will be quite a cool building, and I must visit it again when it is completed. You can get more information about the expansion project by visiting the following website.
SFMoMA Expansion: http://www.sfmoma.org/our_expansion
There were some special exhibitions when I visited SFMoMa. I was especially interested in an exhibition of Lebbeus Woods, who is an American architect and artist. I wasn't familiar with him before visiting the museum, but the exhibition was so interesting because all the drawings looked like buildings in Hayao Miyazaki's movies (for example, Princess Mononoke and Howl's Moving Castle). After visiting, I searched for Lebbeus Woods on the Internet and it was very interesting to learn more about him.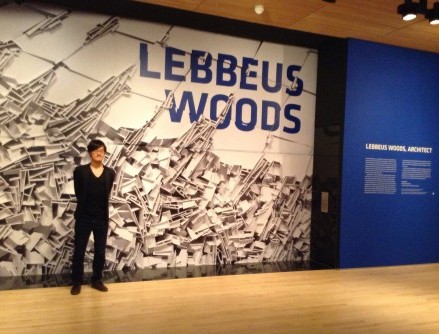 One of the reasons why I love to visit museums is that I can learn about many new artists. During my internship I met a lot of new people and it was really nice experience!